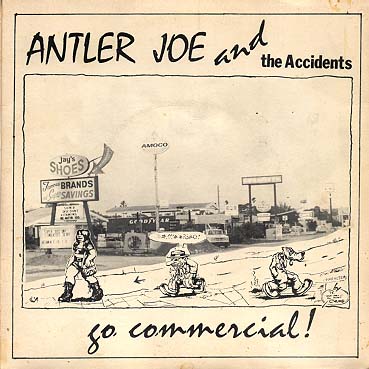 ANTLER JOE &
THE ACCIDENTS
I'd seen the record on a want list circa 1991 but thought nothing of it. Still reeling from the deep disappointment of listening to the much-anticipated Benedict Arnold & The Traitors "Kill The Hostages" 7in. (1980) a few years prior, I was in no hurry to hear a record by a band with a far less promising name. It wasn't until 2001 that I actually got an earful of the track "Dogshit" from their EP, and — lo and behold — it ripped. I needed to find this record before more of the usual suspects got hip. I was already planning a trip to Florida to meet up with members of another early Florida punk band, Critical Mass. Antler Joe was from the unlikely city of Fort Myers, on the southwest coast, and that meant a lot more driving on an already punishing roadtrip. Undeterred by miles of open highway and go-nowhere phone calls, I arranged to meet with one of the original Accidents.

John, the singer, said he'd been wholly transformed upon popping the Sex Pistols 8-track (now a legend unto itself) into his car stereo. He met up with a like-minded soul named Mike (the "brains behind the band"), a guitarist who was for no apparent reason also called Antler Joe. Antler Joe & The Accidents were born. As you might've guessed, the band received little if any support in their hometown where the most regular venue was Pete's Hangover, a biker bar. A friend of the band relayed a story from Pete's:
"I guess this must have been 1980. I went to see them play at this biker bar in South Fort Myers. John always had balls, if nothing else; after getting tepid response (at best) from the crowd, midway through their set the band starts playing the opening to "Stairway to Heaven" while John starts talking about how they're going to 'play a song by the greatest rock band in the world'... well, now the crowd is starting to come alive and give out a little applause — then the band stops and John yells 'the SEX PISTOLS!' and they rip into 'I Wanna Be Me'!! I tell you, that was one of the greatest rock 'n' roll moments I've ever seen!! Man, I thought they were gonna get murdered, but somehow they managed to get through one or two more songs and escape with their skin!"
Antler Joe & The Accidents finally relented to such local popular demand and headed into Soundcheck Studios, run by a member of the Panics (the only other Fort Myers band that could possibly be classed as "punk"). They recorded three songs: Dogshit, Words, and Who Needs A Woman Like You. John said he had but one regret, and that was the enlisting of a sax player on the last song. I can only share in John's regret, but two outta three ain't bad. The band printed up 300 copies complete with pic sleeves and inserts and released it as the Go Commercial EP (Killer Sheep Records 1981). The EP was greeted with the expected enthusiasm: the drummer quit and locals didn't give a shit. According to John, the record was the beginning of the band's end. Member turnover continued until one fateful day when John walked into a band practice where "Rocky Mountain Way" was being rehearsed; for John, that was too much insult for too many injuries. Antler Joe & The Accidents disbanded leaving behind a rich Fort Myers legacy of strip malls and chain stores in the wake of their impossibly rare Go Commercial EP.
— Ryan Richardson



---






CONTACT: Break My Face