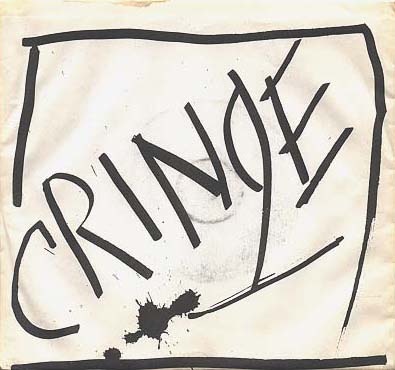 CRINGE
THE SEVEN YEAR ITCH
This is a story of persistence, the first such story in my history of ragged punk rock trackdowns. Or perhaps it's about an illness. Anyway, somewhere around 1992, a friend of mine wound up in a band with a guy named Chuck. It turns out Chuck (a/k/a Babe Ruthless, one of my fave punk pseudonyms) used to play in an early Dallas punk band called CRINGE. Cringe had released a 4-song EP in '81.... I got a tape of it. A few listens, and I had to have the record. It was the most amateurish, retarded early punk record I'd ever heard (the first track, "Spit On Your Grave" is on Killed By Death #10). Essential. I called Chuck and asked if he had any spare copies. None. And thus the sick saga began.

Over the next couple years, I got in touch with two other members: one had his personal copy, one didn't have one at all. They all said the same thing: if anybody has copies, it's Suzy Mustang. Suzy was also the only hope for an unreleased studio song ("Stress") and Cringe's ready-for-MTV video for "Spit On Your Grave" which features the band lip-synching in a local cemetery. YESSSSS. The search was on. For a year or so, I went the usual routes of checking directory assistance and asking around. Nothing. When the ill-fated Dallas Independent Music Festival rolled around, I was told she would be attending. I put up a big sign looking for her. None of the 40 attendees responded.

A couple years later, I was told that she might work at Dallas Presbyterian Hospital, so I put up some flyers in the break room there. A couple days later, the phone rang. "I was calling about your flyer at the hospital." My big break had come. "This is security, and we really can't have flyers like this up at the hospital." Fuck. Someone at Bar of Soap thought she was in Florida. I poked around and came up with nothing. Fast forward another year or so: the VVV reunion. VVV was a great early Dallas punk label responsible for classics like NCM "Ultimate Orgasm" 7in. and Bobby Soxx "Hate In The 80s" 7in. Anyway, there was a VVV Reunion where the Ejectors, Telefones, Ralphs, NCM, Bobby Soxx were to play. SURELY, she'd show up there. Between sets (or actually during Ejectors set), I scanned the audience for a large Hispanic woman (she'd apparently put on a few pounds). No dice. Over the next couple years, there would be a couple of "sightings", one at a grocery store and one at a bar. Elvis made more appearances than Suzy. I was frustrated.

All right, now we're up to 1998, and I've talked to dozens of old Texas punk rockers. They've either never heard of Cringe or don't a clue where Suzy could be. I decide to call Babe Ruthless, now married to a friend of mine, and pick his brain. It turns out Suzy was from Indiana. I decide this is the last push. I sit down and write to every individual with the last name Mustang (not her real last name... do your own work, sloth boy). About a month later, BINGO!!! I get an e-mail from "smustang@hotmail.com". One of her relatives had forwarded my letter to her in Arizona, where she is currently residing. For all my goose chasing in Texas, she'd been in Arizona the entire time. So, you'd think that was the crowning moment to a six year quest. Think again.

I started off by sending her $100. Half the money was a belated royalty payment for the Cringe EP reissue (a generous cut of my second and worst-selling release... it took over a year to sell the pressing of 400 EPs — apparently, the world was not ready for Cringe in 1992). The other $50 was a down payment toward any copies of the Cringe EP she might have available. This was May 1998. A month would go by, nothing. I'd call and check in. I rarely reached Suzy... I either got the answering machine or her roommate. After about six months, I was starting to bang my head against the wall. "I just haven't looked for the records yet". Suzy was always pleasant and apologetic on those blue-moon occasions when I reached her. Hey, we've all got priorities and busy lives... but six months to look in the closet for some records? Jesus, I must admit I was growing weary. Anyway, I continued to call sporadically (a call every six or eight weeks... I'm persistent not pushy). One evening, she said "I'll just look for 'em right now while you're on the phone". YESSSSS. Imagine my joy when she counted out six copies and said she'd send them the following week. Every day I'd yank open the door to my p.o. box, and every day I'd be disappointed — no package slip from Arizona!!

ANOTHER TWO MONTHS GO BY — I decide to take the step that's worked on the flakiest of band members: the box. I send a box that's addressed, stamped, and includes packing materials down to the tape. It's a no-effort no-brainer. And, yes, you guessed it... no records. At this point, I begin resigning the saga to Fate like any sane person would've done long ago. What else can a mortal do? So, it's May 1999, a year after first making contact with ol' Suzy. I'm gabbing on the phone with my friend, Steve, about the mess. As I'm talking to him, I remember I have a cousin who, like Suzy, lives in Arizona. "Hey Steve, punch up that map website and see how far Glendale is from Peoria." Steve pulls up a map website. "Umm, this site's saying 4 miles apart." Incredulous, I hang up with Steve and call my cousin... "oh yeah, not even four miles," he says. I explain the mission: put a stocking on your head, get a crowbar, enter through side window — all right, all right, it wasn't like that. Yet. I call Suzy and tell her that — lo and behold — I can have my cousin pick up the records from her. She opts to bring them to my cousin's place on Memorial Day leaving me to wonder if she's actually going to show. Almost a year to the day, a talkative and only slightly peculiar gal handed over a half dozen Cringe EP's to my cousin. I had them in my hands the next day (damn right, I paid for Express Mail). Yeah yeah, I know it's a rather mundane ending to a particularly grueling search, the earliest and definitely longest of my punk rock collecting tenure. See, it was no longer the thrill of the hunt, it was a goddamn War of Attrition. If collector scum medals were issued, I'd be donning a Purple Heart because, baby, I took some flak on this one. Now I'm wondering if I should bother pursuing unreleased material and that Cringe video that may lurk in Suzy's garage... nurse, more morphine please!!

OK, you've read this far waiting for the riveting biography of Cringe, the story behind the music. Well, the problem is there ain't much to tell according to Babe Ruthless, the guitarist. Cringe formed in Dallas circa 1981 and actually recorded their four-song EP after only three rehearsals. Vocals were a shared duty on the record with Keith Pearce singing on two tracks ("Spit On Your Grave" and "Toxic Shock"), Suzy singing on another ("Secretary Spread") and Chuck, er Babe Ruthless, screaming away on the last song, "Out of Hand, Out of Control". The first pressing plant the band contacted refused to manufacture the record because of "content issues", always a promising sign for a punk rock record. The band had no such problems at the next plant where 300 copies were pressed. The elaborate sleeve artwork (see scan) was copied onto oversize sleeves which were folded and sloppily glued by hand. Not long after the record's release, the main vocalist (Keith) quit and further line-up changes followed. Cringe had little, if any, local following, and the band quickly caved to popular demand — in other words, they broke up. Suzy later collaborated with Bobby Soxx in a band called Enemy. No recordings of Enemy have surfaced — the only artifacts testifying to their brief existence are a handmade pin made by Bobby Soxx and a flier with Enemy opening for the Subhumans at Fort Worth's own Zero's New Wave Lounge (where tons of early touring bands like X, Fear, The Fix, Plugz, Alleycats also played).

As far as I know, Suzy doesn't do the music thing these days. Following Cringe, Babe Ruthless played in a number of similarly successful bands and continues to swat away at his guitar to this day. As for the other members of Cringe, they have dispersed into anonymity among the where-are-they-now files, beyond the reach of your impassioned but nonetheless worn-out narrator. I can only guess they're glad to be where they are, namely far removed from their rude, crude croonings of twenty years ago. And so I'll conclude with three cheers for Texas's trashiest early punk combo — long live Cringe, long live Cringe, long live Cringe!

Last but not least BMF presents a parting salvo in the ongoing Richardson vs. Devereux (pro-Cringe vs. anti-Cringe) debate...



Anorexia, recorded live in 1981 and previously unreleased. It's unclear whose case this MP3 will bolster.


— Ryan Richardson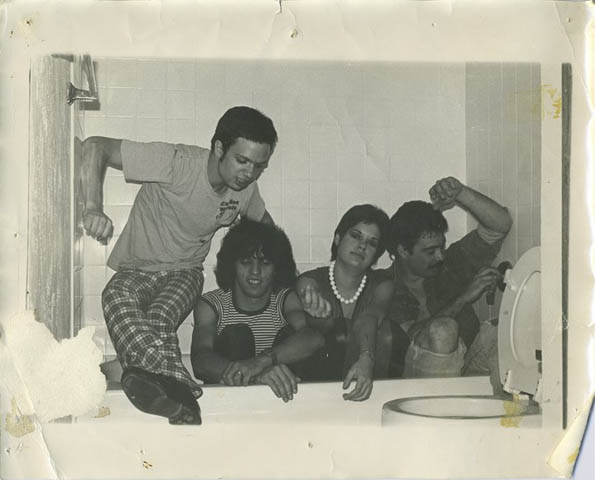 CRINGE: Chuck Rose (a/k/a Babe Ruthless), Paul Muller, Suzy Mustang and Keith Pearce
---






CONTACT: Break My Face