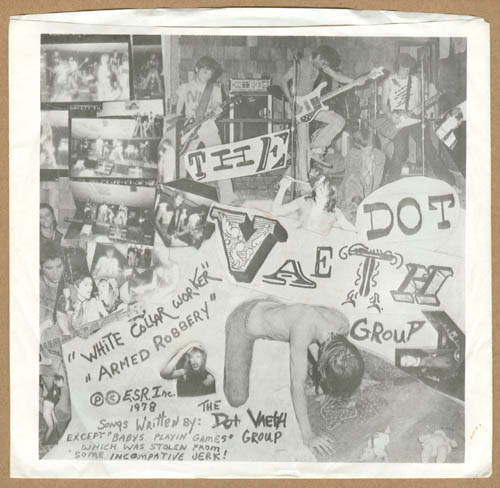 DOT VAETH
Dot Vaeth was named after members' junior high art teacher, Dottie Vaeth. With the release of their "White Collar Worker" b/w "Armed Robbery" 45, Dot Vaeth set a new lo-fi standard. Between the record and the mastering, you'd swear someone pumped some cotton candy into your ears. The band included the Townsend brothers who between them provided the backbone for several great early D/FW punk bands. David Townsend dredged up a little background...
Dot Vaeth started out in my bedroom at my mom & dad's house. Me, Doug, and James jammed with some pretty lame instruments. I had a Fender strat with a warped neck, Doug had a snare drum and used the snare case as bass drum. James had an assortment of instruments, a $3 Radio Shack microphone, and various crappy $30 guitars culled from local pawn shops. We both used a 15-watt amp that squealed to high heaven if we turned it up past '2'. I started playing drums in the school band, and Doug was taking guitar lessons. I wasn't much of a drummer, and Doug really sucked on guitar, so we swapped. James had a self-taught background on keyboards and also had a great understanding of musical theory. Anyway, we eventually got some real instruments by working various jobs and begging our parents. James and I both bought 200-watt amps which prompted my parents to announce that we had to get that crap out of the house & something about not being able to hear the TV. So we rented a self-storage building. Jim Nabors, another friend from school, starting singing with us at the practice space. A couple months passed by, and another band began practicing right next to us. With only sheet metal separating us, practicing was rather tedious most of the time. The guitarist from this neighboring band, Pat, eventually migrated into Dot Vaeth and introduced us to Bryce Parker, future ESR studio magnate. One afternoon, Bryce showed up at Pat's trailer, plopped down a two-track recorder and a couple of mikes, and said 'We're making a record.'

A couple years back, I got a surprise phone call late one night from a rowdy crew consisting of three former Dot Vaeth members. The guitarist and the singer had come down to Austin to visit the bassist, James Flory, whose apartment was less than one half mile from my house! I had no choice to join in and anyway James owed me a record, his end of a trade we'd made years before. Jim, the singer, was back on the straight and narrow (after years of anything but) and was a real blast to hang with. Of course, he got a huge kick out of the fact that ANYONE remembered his band. Jim also told me how he'd lifted the chorus of "Armed Robbery" from some hippie chick strumming away on late night lo those many years ago.

I brought over Dot Vaeth recordings that the members either hadn't heard in twenty years (or at all) including a 1977 demo tape (dubbed from Barry Kooda of the Nervebreakers). Dig the super-serious spoken intro by Bryce Parker III...



...and two punishing covers:


The Boys "I Don't Care"


Skrewdriver "You're So Dumb"



Can you tell band members went straight from the record shop's import section to the practice space to learn the songs? And, strangely enough, I'd listened to the Dot Vaeth demo for years before discovering the original versions of these songs!

Last but certainly not least is an amazing tidbit I excavated from the estate of Bryce Parker: a 1978 promotional film for a "lightning machine" invented by the Ritchey Brothers which features Dot Vaeth blasting through an appropos cover of the Ramones' "Shock Treatment". Absolutely mindblowing! Thanks to Steve Dirkx for transferring the original film reel to video.


— Ryan Richardson
---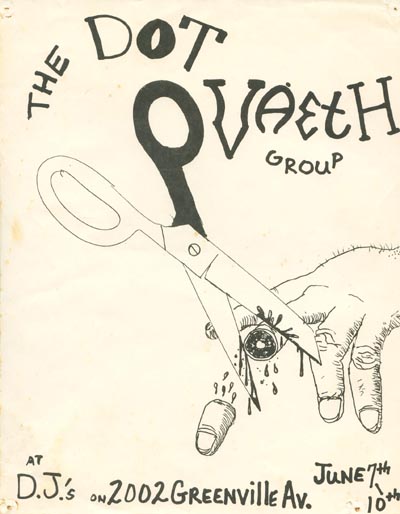 Dolores Nolley's "DJ's" club played a pivotal venue in the early D/FW scene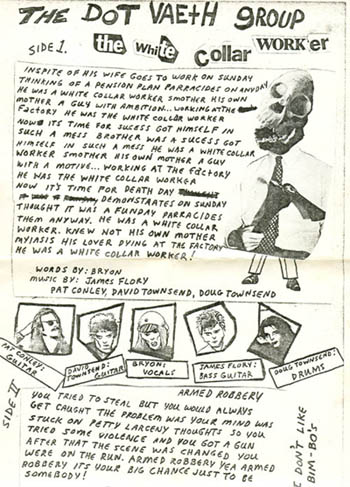 A partial scan of the very scarce Dot Vaeth 45's lyric insert


---






CONTACT: Break My Face