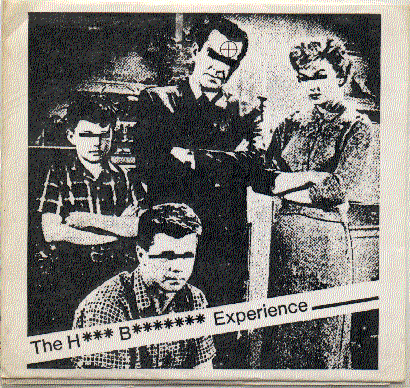 One of two known promo sleeves where "Hugh Beaumont" is astericked out
HUGH BEAUMONT EXPERIENCE
"God doesn't judge us by the stardom we achieve." — Hugh Beaumont (1958)


No other punk band from Fort Worth, Texas is more infamous than the Hugh Beaumont Experience. Actually, there aren't too many other punk bands from Fort Worth anyway, but just stick with me. The Hugh Beaumont Experience's infamy lies mostly in realm of record collectors seeking the band's terribly rare Cone Johnson EP.

My fascination with HBE gained momentum when I wound up sitting next to Laynette Stiles in algebra class at Paschal High School in Fort Worth circa 1987. Algebra class was run by a barely-competent woman named Ms. Pryor (pronounced "Pry-ruh") with tits so gigantic that she could leave her textbook sitting on them while she wrote on the overhead project... ask any former student. I can't remember exactly why (most likely, I was wearing my Butthole Surfers T-shirt), but the subject of Hugh Beaumont Experience came up before class one day. It turns out that Laynette's brother, Brad, used to sing for the band, and she promised to give me her copy of the Cone Johnson EP. After a few weeks of waiting, she discovered her copy had fallen victim to a spring cleaning a couple years prior. Oh, the humanity...

The first Hugh Beaumont member I actually met was Tommie, the original guitarist, who was substitute teaching at Paschal the next year. He didn't have a copy of the EP for me either. The combination of hometown pride and the status as a "pre-Butthole Surfers" outfit held me thrall. I had to get my hands on the record. When I eventually landed one, Cone Johnson inspired me to start my own reissue label, Existential Vacuum. A compilation EP of my favorite Hugh Beaumont Experience material was the first release. Admittedly, this release was, for all intents and purposes, a bootleg not authorized by the band until a couple years later. Retroactive legitimization... why not? Anyway, my interest in the band only continued to snowball. A couple years after the first release, I began work on an entire Hugh Beaumont Experience LP comprised of live material and an unreleased "live in the studio" session.

I discovered — through Fort Worth's fabulous Finn brothers — that Brad Hugh Beaumont founder and provocateur magnifique, had an unreleased Hugh Beaumont studio session recorded by, strangely enough, Bob Mould of Husker Du fame. I eventually convinced Brad that the world needed to hear it (even though I hadn't actually heard the tape yet). These Bob Mould recordings involved the later band line-up with that included future Butthole Surfers drummer, Jeff "King" Coffey. King was completely uninterested in seeing the session released and told Brad to do what he wanted. After tracking down the obsolete equipment needed to transfer the tapes, the LP was on its way. These sessions were rowdy and undoubtedly on-the-fly... this session became the Existential Vacuum LP's B-side. The A-side was culled from live recordings that the Hugh Beaumont Experience had released on homemade cassettes entitled Virgin Killers. These live recordings are great and include good bating of the obviously longhair audiences of Fort Worth and Arlington, Texas. A couple of tracks were somehow deleted from the final cut... and that was only the beginning of the nightmare.

I asked a friend to do the LP jacket artwork... mistake! Hurried, amateur computer graphics at their dogshittiest. The two hundred red vinyl copies were pressed off-center. I was starting to think the Hugh Beaumont Experience LP was cursed. Just as the album was approaching release, I found out that Brad had died (under circumstances which remain sketchy). I only knew Brad through the music he had recorded over the years and can't say I was very close to him, but his death dampened any remaining enthusiasm for the release. The problems multiplied and metastasized from there, eventually evolving into a nightmare as Jeff "King" Coffey, Brad's former bandmate and good friend, turned against me and the whole project. Coffey demanded that all master recordings be returned along with royalties paid in full, up front. Brad and I just had verbal agreements which proved to be quite a royal boon for "King". I would have to acquiese to every demand or face a lawsuit. The hard feelings that resulted from the LP's release would be vented in various forums over the next few years and not be resolved until five years later when I received a much-appreciated apology from Coffey.
CLEAVERS, BEAVERS, AND UNDERACHIEVERS...
OK, so that's how I fit into the picture, and your eyelids are feeling mighty heavy. Despite a trove of Hugh Beaumont Experience minutia already occupying limited brain space, there are still plenty of details that may forever be unknown. For one thing, the roster of members for the band's many incarnations is enough to fill a bingo hall. I'll just give you the nutshell (er, terribly incomplete) rendition of the band's founding and recording of the EP.

The band started at Country Day School in Fort Worth in 1980. Country Day is one of two or three pricey "elite" private schools in Fort Worth. Street punks the Hugh Beaumont Experience were not. The original name proposed, "The Offenders", was wisely rejected by the original bassist, Clay. After a brainstorm session on the school's second story balcony, Tommie (the original guitarist) jokingly suggested "Hugh Beaumont Experience", and the name stuck. The Hugh Beaumont Experience first began practicing during lunch breaks at different members' houses. The band's first gig was on a school trip to Artfest in Kansas. Country Day School sponsored a trip there for the music, drama, and choir departments which meant that all Hugh Beaumont members would be there with instruments in hand. The audience threw food.

A few months later, the band recorded the Cone Johnson EP. The record was paid for by a woman named Beth who was looking to release a record by some "new local talent". A suggestion by local DJ George Gimarc led her to the Hugh Beaumont Experience. She would eventually release the EP on her own label, Cygnus Records. All band members were 15 - 17 years old at the time of the recording. These recordings, though among HBE's earliest, wound up being the most polished as Cygnus was fishing for a little more commercial success than the band ever realized. Even after I eventually got in contact with Beth, the relationship between her and the band has never been clarified. All we know is there was a big falling out, and the resulting hard feelings seem to be the root of the Cone Johnson EP's rarity.

Many line-up changes followed (and even preceded) the record's release. With each turnover, the band seemed to get faster and less polished, reversing the usual progression of a band's sound, but then again Brad didn't seem to do anything as expected. Brad would eventually be the only original Hugh Beaumont Experience member left in the line-up before the band dissolved.

— Ryan Richardson


---


HUGH BEAUMONT EXPERIENCE discography:

• Cone Johnson EP (Cygnus 1981 PS) w/ lyric insert
Songs are: Zyklon B + Where'd You Go Sid b/w Charity + Money Means So Much To Me

• Virgin Killers cassette
Photocopied cover and insert with handwritten cassette labels. Extremely rare.

"Let's Go Join The Army" and "Money Means So Much To Me" on Live At The Hot Klub compilation LP (VVV 1983)

"Moo" on Cottage Cheese From The Lips of Death compilation LP
(Ward 9 Records ~ 1983)
Centered artwork indicates a 1st pressing (scarce). Off-center artwork indicates a 2nd pressing which includes an exclusive Butthole Surfers track "I Hate My Job" not on the 1st press. CD reissue 2001.

"Fred" and "Purple Things" on Steel Rok Presents cassette-only release (1983)


POSTHUMOUS:
• 4-song reissue EP (EV 01)
• Virgin Killers LP (EV 06)
• "Money..." on Tales From The Edge vol. V & VI


UNRELEASED:
• "Money Means So Much To Me" + "666" + "Don't Apologize, Just Leave"
Former KZEW disc jockey George Gimarc excavated a cassette containing the earliest known Hugh Beaumont Experience recordings as "The Offenders". The sessions are wholly primitive with distorto guitar, a snare drum, and little if any bass.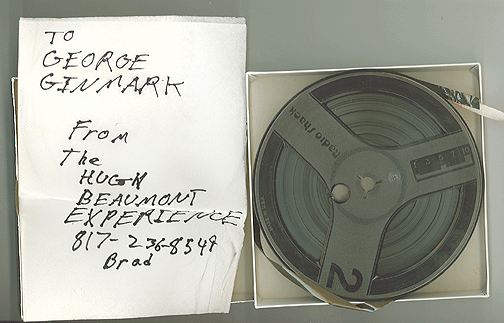 • "Alchemy" + "Sunshine of Your Love"

Jeff "King" Coffey filled in the details...
Hugh Beaumont Experience did two more songs at the B.O.S.S. — "Alchemy" and "Sunshine of Your Love". The first song I liked to think was sort of PiL or Killing Joke-ish, but in reality the drumbeat was directly lifted from Frida's (one of the singers from Abba) minor hit of the time "I Know There's Something Going On". "Sunshine" was a faithful cover of the Cream song, which I guess was an attempt to show off our love of acid and piss off punks.

The master tape has been lost. Last I heard my friend Murray had it (who later went on to be in the Old 97's of all things), but when I asked him about it a couple of years ago he had no idea what I was talking about. So who knows where it wound up. Neither song is that great, honestly. There was some talk about putting "Alchemy" on Cottage Cheese instead of "Moo", but since it was a hardcore compilation they went with the only hardcore song we did.

Immediately after we recorded those tracks (literally after the session ended), Brad, Tommie and David left for LA to escape the law (Tommy's dad alerted him that the police were looking for them for the check writing scam). It was a strange way to break up a band — on good terms, just fleeing from the police.
---






CONTACT: Break My Face