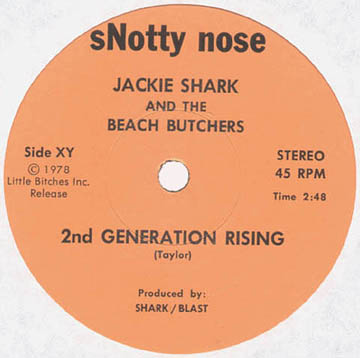 JACKIE SHARK & THE BEACH BUTCHERS
NEWS FLASH July 2009:

!! Shark found !! Some further background will be posted when I have the information and find the time...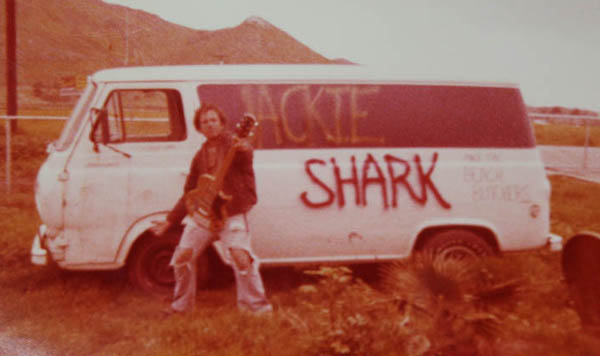 ---


Circa 1997, Steve Turner (yes, Mudhoney's own) had turned up a complete mystery monster — yet again. Now that I think about it, I should record a song called "Find Me, I'm Rare" to the tune of "Touch Me, I'm Sick" in Steve's honor. I mean, the guy really DIGS in the filthy corners in the furthest of the long-shot places and seems to come up spades again and again (Opus, Helen Keller, Jackie Shark — believe it).

When I first heard the details, it sounded TOO good (too punk) to be true... band name, label name, 1978? Both songs ("2nd Generation Rising" and "Mary Lou") are classic, art-damaged punk rock. C'mon, someone was pulling my leg. Well, like the Tapeworm EP released in the same year, truth is stranger than fiction. The difference with Jackie Shark is that NOTHING IS KNOWN about the band. As far as obscure 70's punk records go, Jackie Shark & The Beach Butchers is the coldest case of 'em all. The assumption is that this was a "studio band" (like Helen Keller or Turnbuckles) since nary an old punk rocker seems to remember 'em, and they've never been spotted on a gig flier. My best guess is that Jackie Shark hails from Southern California, but that is most certainly a guess.

Mr. Taylor, Blast, Little Bitches... I've had five years of restless sleep so far. Have mercy!


---
February 2005:
Years after the above was posted, the Southern California hunch was confirmed during an archaeological dig at the Bomp warehouse. Fellow digger Johan Kugelberg stopped pontificating just long enough to spot a Cassette of Interest among dozens of dust-covered others: Jackie Shark & The Beach Butchers.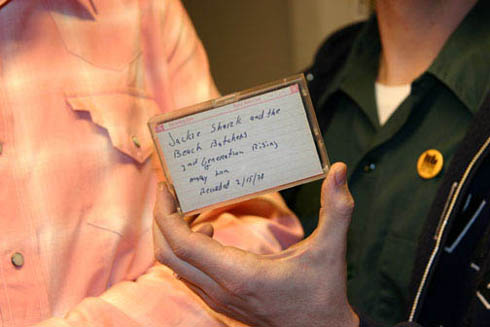 Sheriff Kugelberg oversees cassette handling by a hopelessly underdressed Texan

All credit to Bomp mogul and pack rat extraordinaire Greg Shaw (RIP) for saving this fine little nugget. The promise of a closed case shone on the horizon. Aside from song titles (both tracks from the 45) and recording date, there was also a post office box and phone number — both in Riverside, California. Ever mindful to replenish his repository of claims to fame, Kugelberg kept the cassette, and I immediately set out to find the band. With waters well chummed with Riverside revelations, I figured I'd have Jackie Shark on the line in no time flat. The euphoria faded fast. The telephone criss-cross directory matches ended in 1977. By all accounts, p.o. box records from way-back-when were destroyed long ago. Hipped to the Riverside tip, I contacted members of other area bands, club owners, and scenesters from the Inland Empire area. Jackie who? Jackie what? With every quizzical reply, the belief that the Beach Butchers were but a studio project (as opposed to a gigging band) seemed all the more founded.

Unwilling to concede defeat just yet, I headed out to Riverside and waded through five dreary months' worth of 1978 Press-Enterprise microfilms at the Riverside Public Library. A tiny Sex Pistols piece provided the only glimmer of hope along the way. Having gone nearly blind, I went off for a greasy Mexican lunch and thus assured the remainder of the afternoon would be spent fast asleep, drooling on a secluded library table. And so I'm left slightly wiser but back where I started... up on deck, scanning the wide open waters, hoping against great white hope for that elusive dorsal fin to show itself.

— Ryan Richardson
September 28, 2005

---






CONTACT: Break My Face