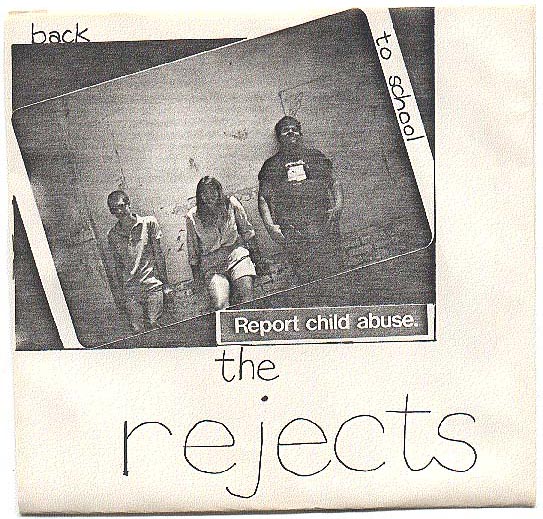 THE REJECTS
NEVER SAY NEVER
A couple of people had asked. My initial response was that the record didn't exist. Having talked to many an early Texas punk rocker by the mid-1990's, I found it hard to believe that — if the band existed — I wouldn't have heard a single mention of them somewhere along the way. Less than a year after I reached this conclusion, I watched my sidekick Steve flipping through a stack of unpriced records at the yawn-inducing Austin Record Convention (1996). He paused and looked over his shoulder at me. I suppressed a gasp and reinserted my eyeballs into their respective sockets. The Rejects EP was in Steve's hand. Following the purchase of two copies (one each at $35 a piece), we rushed over to a friend's table to give it a spin. Not only did the Rejects EP exist, it contained two killer punk tunes ("EEG" and "Barbed Wire Baby") and a third not-so-punk mood piece ("You Haven't Done Your Share Until The Job Is Finished"). I got on the horn and contacted the guitarist, Mark. Why was this record so unknown and difficult to find? Mark knew the answer: they only pressed 100 copies! While there are a number of early punk records with 200 - 300 pressing sizes, the Rejects truly took the cake for unambitious press runs! Punk collectors of the world would come to both praise and curse the name of The Rejects.

Mark kindly provided some background for these teen punk sensations:

We formed in my freshman year in high school... Mark and Denise Rubinstein and I were all in 'stage band' (a sort of jazz big band thing in school) together. We decided to form a punk band since we already played together... we all listened to the Ramones and went to see them at The Armadillo World Headquarters in Austin. We played our first gig at a place in San Antonio called "The Friendly Spot" — an outdoor bar in the King William District just south of downtown San Antonio. We continued to play several gigs there and began to build a following. We then approached Raul's in Austin... after seeing the Ramones at Armadillo World Headquarters we met some bands and people that got us an audition at Raul's. Our parents came and drove us to Austin and had to stay at the gigs at Raul's because we were all under age. I was 16, Mark R. was 15 and Denise was 17. We opened for the Big Boys, the Dicks, Sharon Tate's Baby, the Offenders, Delta 72 and other bands I can't remember.
The Rejects Back To School EP was the third release on Closet Records and was quite different from the label's other releases which were more along prog lines than punk. Gary, the chap responsible for Closet, took The Rejects "under his wing" and arranged for them to record. As Mark tells it, this was quite a coup as studios were expensive and hard to come by at the time. The results from this first studio stint were not quite up to the band's expectations. "We were not at all satisfied with the original mix of the record so Mark R. and I went into some other studio with the 1/2" tape and remixed it and fattened up the guitar tone... we also cut out some of Mark R.'s vocals at the end of 'EEG'... you can still here a fraction of a second of him yelling 'Me' before it gets muted!"

The Marks' return to the studio was a wise move indeed... Mark's guitars blast through your speakers at a Spinal Tapesque "11". It's no wonder Mark R. would eventually take on engineering as full-time — thumbs up from the Break My Face Volume Review Board. Mark left The Rejects not long after the record came out because of musical differences.
I was beginning to listen to stuff like PIL, Psychedelic Furs, The Cure. Mark was replaced by Fred, and the Rejects continued to play gigs in San Antonio as well as Austin (Raul's) and Houston (The Island). Two of the more interesting Rejects gigs: a March of Dimes benefit at La Villite in San Antonio which featured the then-new-group Butthole Surfers and a party thrown by a bunch of Buddy Holly fans at the Texas Chainsaw Massacre house.
The odds of turning up a copy of the Rejects EP are slim-to-none so you might want to check out "EEG" on Taco City Rockers, a compilation LP on Kaniption Records featuring a decade of San Antonio bands and really great homemade covers. "EEG" and "Barbed Wire Baby" also appear on Killed By Death #12 LP, one of the many volumes in this infamous bootleg series chronicling worldwide punk rarities.

And in honor of BMF's 2006 New Year's renovation, I present to y'all a raw, rare Rejects track called . This cut was recorded at the band's first gig outside of San Antonio when they appeared at Raul's in Austin (July 1, 1980).



— Ryan Richardson





The quote that makes collectors weep (from an interview in Houston's Wild Dog fanzine)
---






CONTACT: Break My Face