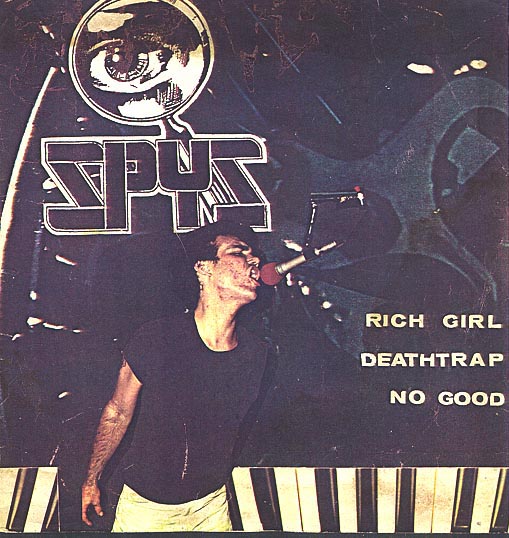 ROCK BOTTOM & THE SPYS
ROCK BOTTOM & THE SPYS released one very good, very rare single. Their EP was "discovered" by record collector Abe King in the late '90s who happened upon their one and only release in a Bay Area record store. Up until that point, it's safe to the say the record was ignored the world over. Only the most dedicated Slash reader would've noticed mentions here and there about Rock Bottom. In the pursuit of their three-song EP, myself and a friend in L.A. found ourselves wading through a tumultuous, depressing where-are-they-now file.

The first Spy reached was the guitarist. The fact that this member had song writing credits on the disc and an unusual surname made finding him relatively simple. That is not to say it was easy. Ygarr (as he was called back then) was extremely nomadic, so much so that getting a hold of him usually involved going through his parents. His stepmother was perhaps the most sociopathically rude person we'd reached yet (both my friend Roger and I had the pleasure). The woman was born angry. The simple request to leave a message could, and did, send her into a rage. And, of course, the message never quite made it to Ygarr. Roger's exasperation in attempting to contact Ygarr peaked when he told the stepmom that he was a record company executive with a royalty check for Ygarr that could only be sent if he spoke to Ygarr personally! Yes, it was a lie, but a necessary one — and it worked. In return for the aforementioned efforts, Roger bought himself a copy of the 45 for his collection. Ygarr also sent along a poor-quality cassette of unreleased studio songs (this would turn out to be the only place the songs existed). Fortunately, the band had indeed selected the best songs for their record (usually not the case). Ygarr also provided the other band members' names: Blank Frank, Rock Halsey, and Guillermo Libutti.

With a last name like Libutti, we figured finding Guillermo would be a "slam dunk" so we started there. I found an address for him in Los Angeles. Roger buckled up and headed across town. Upon reporting to the address, the only indication of a residence at the address was a jury-rigged doorbell hanging over a rotting wood fence. After repeated rings, a voice emerged from around the corner. "Guillermo?", Roger called back. Nah, he doesn't live here, the voice responded. As Roger turned to leave, he noticed a man exiting a business across the street and approached him asking whether he knew his neighbors, namely a guy named Guillermo. The neighbor asked if Roger was a cop or FBI agent — not a good sign. "Look, I'm just a record collector trying to find a band member." The man informed Roger that his neighbors across the street were drug dealers, one a cocaine dealer (Guillermo apparently) and one a heroin dealer. Apparently a feud had developed and the heroin dealer was found bludgeoned to death, and Guillermo had disappeared and was wanted for questioning about his colleague. Need I say our search for Guillermo ended there?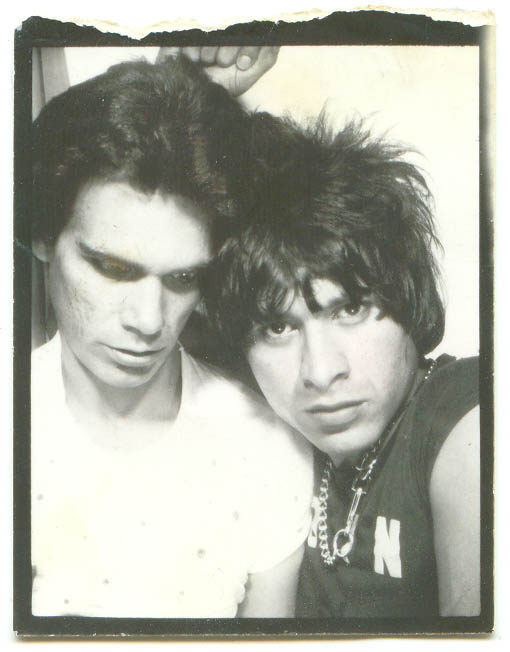 Rock Halsey and Elias Alias circa late 1970's
Next up: Blank Frank. Our search turned up folks with Frank's surname, but no Franks. Roger decided to try one of the other numbers and reached Frank's mother. His mother informed us that Frank had died in an apartment fire some years ago. Other folks suggested that his death was drug-related. Perhaps it was both. Whatever the case, the search for the rest of the band was not looking good. Tragedy seemed to follow the Spys. The only person left to find was the singer, Rock Halsey... or so we thought.

As the search for Rock Bottom & The Spys continued, Roger noticed a review of the EP in Reverend Norb's old zine, Sick Teen. The Rock Bottom & The Spys EP was listed as being available from ICI-Sanoblast. The ICI record label had released the Lewd's American Wino and Wasted Youth's Reagan's In LP along with an EP by Deep Six (which included Blank Frank). Two people were credited with running the label. One of them was Ian Icon, and we figured he might have the record or know some further leads. While Ian didn't have a listed number, I managed to locate an address for him in L.A. It would be up to Roger to stop by his abode. It turned out to be a gated apartment building where, despite usually being confounded by anything electronic, Roger navigated the apartment call system and reached Ian. It was only after talking to Ian that Roger discovered that Ian was, in fact, a member of the Spys! As if to prove the point, Ian dug through his ill-kept apartment and found what would prove to be the only known picture sleeve for the Rock Bottom & The Spys EP. Though an official sleeve was never printed, Blank Frank had constructed an elaborate, double-sided color copy mock-up picture sleeve (where, sure enough, Ian is credited for playing bass on the record). Ian, while not exactly on top of the world, seemed to be far more fortunate relative to his other bandmates. The sleeve held a further surprise: yet another previously unknown band member that Ygarr had failed to mention: Joel Martines, drums. Despite the revelation, attempting to sort through the innumerable Martines's of the world was a task even this dogged duo never considered.

Through all this, no one knew the whereabouts of Rock Halsey though someone, somewhere had heard Don Bolles (Germs) mention that he thought Rock was in jail. A few months later, a chance e-mail to former Germs manager, Nicole Panter, would provide the lead we needed. She was friends with Rock's brother. Not long after, I was corresponding with Rock who was indeed serving time... a lot of time. Under California's "three strikes" rule, Rock had landed in prison on a 25-year stint for manufacturing and distribution of meth. Moreover, in prison, he's spent long periods in solitary confinement due to a guard beating incident which Rock had witnessed and subsequently testified. At my behest and the promise of significant financial reward, Rock had his mother and brother comb every possible space in search of a stash of Rock Bottom & The Spys EP. Much to our chagrin, we soon found that the bulk of the Rock Bottom & The Spys EP's and master tapes — everything associated with the band, for that matter — had fallen victim to the perils of a drug-riddled lifestyle.

A few months later, the Rock Bottom & The Spys case was finally closed on a trip out to L.A. where Roger and I discovered — once again, through Nicole Panter — that the fifth and final member of the Spys, Joel Martines, was dead.

Because the Rock Bottom 7in. was so rarely — if ever — seen, our assumption was that, at the very least, one of the band members would have a small stash. So many times before, collectors had discovered a record was rare simply because a band member had most of the copies sitting in his closet! Not so with this one. Years of street life seem to have erased all vinyl traces of a band that was hopelessly obscure in the first place. In the years of tracking down early punk band members, we've found people who wound up in all walks of life. Many times, people from the same band will wind up in completely disparate lifestyles: one's a lawyer, one's a poet, one's still a musician, one's died an early death. More than any other band from that era that I know of, Rock Bottom & The Spys seem to have wound up — to put it lightly — uniformly unwell with fate's spectrum ranging from death to imprisonment to a life fraught with persistent pitfalls.

— Ryan Richardson (written in 1999)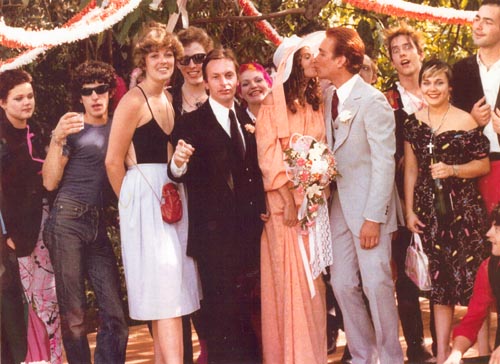 Rock Halsey's 1978 wedding with Spys in attendance along with Belinda Carlisle and Michelle "Gerber" Bell


---


9.27.01: The story keeps getting worse. I'm sorry to report that Ian Icon, the Spys member who seemed to be better off than all the rest, has killed himself. Ian's son had committed suicide just two weeks prior.



---


8.11.05: I'm saddened and disgusted to report that the grim Rock Bottom & The Spys saga has taken another awful turn... Rock Halsey was murdered in prison yesterday. Only two days ago, I received a letter from Rock where he was elated about being moved to a medium-security facility away from the "lunatics that are so jaded from years of this shit that they'd just as soon murder you as pass the salt." His letter concluded "I'm on top of the world! I can't believe I'm finally getting a break!" Ygarr a/k/a Steve Della Bosca, now the only known surviving member of the Spys, received a letter from Rock today, just after hearing the news. Rock had served 13 years of his 25-year sentence under California's "three strikes" rule for drug offenses.



---





Born famous... the Los Angeles Times article announcing the birth
of Charles Hand a/k/a Charles Halsey a/k/a Rock Bottom. Seriously.


---






CONTACT: Break My Face