THE SKUDS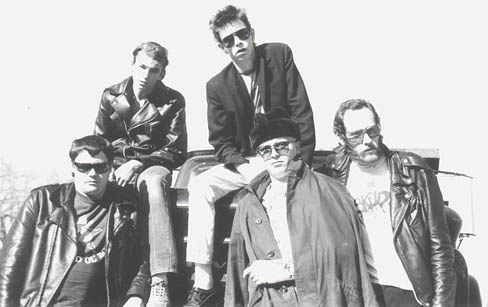 Klyde Kock, Insane Dwayne, Low Life, Platinum Paul, and Jimi Zokar (photo © Lori Ordon)
INCOMING SKUDS! INCOMING SKUDS!! INCOMING SKUDS!!!


DATELINE: March 2001
I knew, at some point, that one of the Skuds would — out of idle curiosity — do a web search for themselves. Almost two years after posting the Skuds page, it finally happened. The Skuds drummer LowLife (a/k/a Jeff Payne) found Break My Face and immediately called Klyde Kock (a/k/a Clyde Stafford). Both of them e-mailed that night. You've got to understand: the Skuds are my favorite early Texas punk band, and despite being able to track down most anybody, this was a band that had eluded me for years. The Skuds' use of pseudonyms had been very effective. No one I ever spoke to knew their real names. This was HUGE (at least in my little punk rock world).

Clyde's e-mail that night was especially serendipitous since I was driving three hours north to Fort Worth the next day for a friend's funeral (and Doug had been a big Skuds fan, too). Klyde lived half-an-hour outside of Fort Worth in the metropolis of Alvarado (pop. 3000), and I promised to stop by. Clyde was just about bowled over that ANYONE remembered the Skuds. I was bowled over to FINALLY meet a member of the legendary Skuds. In spite of the band's reputation for feistiness, Clyde turned out to be a downright pleasant fellow with a wife and son who only added to the smiles that day. Such down-home vibes are just plain unexpected when meeting up with early punk rockers, but then again the Skuds ALWAYS seemed to defy expectations.

Clyde had a great, albeit water-damaged (or was that beer?), scrapbook with some fliers and photos and newspaper clippings. The big bombshell came when Clyde revealed that Platinum Paul, the great lead singer, was his brother. Paul provided the lion's share of attitude and bravado that defined the Skuds not to mention in-your-face lyrics. Somewhere along the way, I'd been told that some of the band members were related but didn't realize the connection was so close. It turns out the main singer and bassist were brothers, the second singer was their sixteen-year-old nephew, and the drummer was a close childhood friend. Needless to say, if you fucked with a friend of the band, you didn't just get one band member coming at ya (I've seen video evidence from Zero's in Fort Worth). The fight that no one in the band could do anything about was Paul's battle with leukemia. His perfectly bald head wasn't a fashion statement. Paul had been diagnosed with leukemia at age nine and had bucked the doctors' predictions of death by age fifteen. However, in 1982, leukemia finally got the upperhand on the raucous front man, and Platinum Paul Stafford died at the age of twenty-four.

LowLife, the drummer, is currently residing in Tennessee, far away from his punk rock stomping grounds though he still sneaks some punk rock listening in when the house is empty. He's currently working on a complete Skuds songbook with lyrics (or as near complete as it can be considering the intense partying the Skuds did). The Skuds had over 40 original songs, and yet never even recorded a 45. Among the first bit of Skuds trivia I received from LowLife was, appropriately enough, a member-by-member listing of worst injuries sustained at a gig...


PLATINUM PAUL: Broken collar bone resulting from a poorly executed off-the-stage somersault. A broken arm would follow the next week as Paul showed fans how he broke his collar bone. The full arm cast can be seen in the photo above.

KLYDE KOCK: Knife wounds to neck as he left stage mid-gig to pound a paying customer's puss into pasta primavera. Said customer had slapped Klyde's bartending wife.

LOWLIFE: Bruised chest and sternum resulting from a "fan" throwing golf balls. Not known whether the perceived enthusiasm of the audience ("more, more!") was, in fact, a warning ("fore, fore!").

INSANE DWAYNE: Sprang neck after attempting an LSD-induced double front flip off chair and landing on his head (gymnastic talent obviously did not run in the family).

JIMI ZOKAR: Blew an amp fuse on at least two occasions.


Several weeks passed after my initial Skuds contact, and I finally got in touch with Insane Dwayne and Jimi Zokar. While Dwayne's whereabouts are ever-changing, Jimi Zokar found himself a steady gig as a tattoo artist in Arlington, Texas.

— Ryan Richardson



---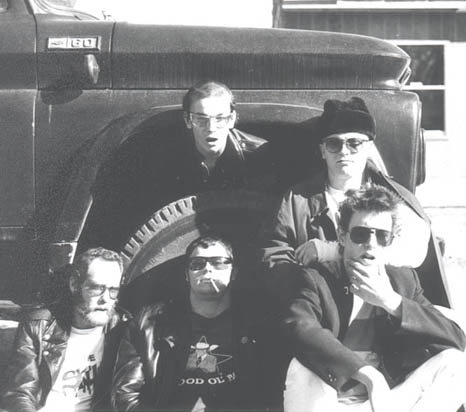 EARLY PRESS RELEASE FOR THE SKUDS AND WILD CHILD RECORDS


Forget logic. Forget responsibility. Forget that you have to wake up early to go to work in the morning — because the Skuds are playing tonight. The Skuds, Dallas' only band that takes pride in wrecking five microphones a week, and hold the distinction of being thrown out of more clubs than empty beer cans, are tucked away in a sleazy bar tuning up for a night of otic abuse. Uncle and nephew singing team, Platinum and Insane Dwayne, are surveying the crowd, offering their bodies to the females for money, and shouting at the few longhairs that have wandered in. "What a bunch of hippies!" Platinum sneers, which sens debris flying toward the small stage area. Already the crowd in flexing their pitching arms in preparation for the show. The hippies are quickly reminded of the night the Skuds cut someone's hair on stage. A beer can barely misses Insane Dwayne. "Lousy shots!", he calls out and takes a flying jump sideways and crashes headfirst into the brick wall, bounces off, and the show begins.

The Skuds, Jimi Zokar on guitar; Klyde Kock on bass; Low Life on drums; and Dwayne and Platinum, have been everything from earthy to unusual; from disgusting to great; a punk version of the Archies on acid; but never bland. Their first public appearance was cancelled halfway through for insulting the audience and "unprofessional behavior". Soon after, unable to play anywhere, an impromptu outdoor concert in a grocery store parking lot brought a visit from the police — and another cancellation.

Platinum wipes the sweat off of his chrome dome head, shakes the gobs of spit off his leather jacket, and recalls the bad joke that landed them their biggest gig: the Dallas Palladium. "The Nervebreakers were scheduled to play at some club, but the owner ripped them off. So, to get back at him, they told him they knew of a great band, using use for revenge. But it backfired — we were the only band to get an encore that night. So the next day we were sitting around, beating on each other (we have to hit someone every day), when the Palladium calls and asks if we can play the next week. I told the guy I had to check our calendar, looked a blank page, and I told him, yeah, I think we can fit it in."

The security guards at that show were not too impressed, though. One ardent supporter was escorted out the door for smashing a glass ashtray on the stage's edge. One guard shook his head somberly and commented, "This is the sort of band that encourages that kind of behavior."

But even though the Skuds perform bodily damage to each other, no one else can come near, thanks to the in-group bouncer, bassist Klyde Kock. Platinum took him along for protection at the Sex Pistols concert, and Klyde says that show changed his life. So now, between sets Klyde chases off unwanted visitors and hippies. Singer Insane Dwayne once wanted to be a stuntman before turning to rock and roll, which explains why he jumps from his housetop, knocks newspaper racks into the streets with his head, and throws himself into PA's. Platinum and Dwayne decided to sing lead together because that left less for each one to learn. Jimi Zokar is the band's resident pervert, although no one will say how or why. Drummer Low Life got his name from unlikely sexual conduct, and often plays "chicken" with lighted cigarettes. Platinum is the focal point, with his ripped leather jacket, bald head, and growling voice. He repeatedly point out that the Skuds do not want to be big stars. With song titles like: "Got My Picture In The Paper — Big Shit", "Don't Want It Around", and "Battle Zone", the Skuds promote a decidedly militant, but pro-American attitude.

Their recent signing on Wild Child Records will now give them nationwide popularity; but don't call them stars, or you might find a Skud or two on the doorstep, weapons in hand.

— Melinda Foretich, 1980


A SKUDS HISTORY
by Jeff "Lowlife" Payne

The Skuds' first gig was the Brian Jones memorial show at DJ's in Dallas, Texas. We were supposed to open the show for the Nervebreakers and Roky Erikson of the famed 13th Floor Elevators. Instead, we ended up playing last, actually "headlining" our first ever gig. Our equipment was garbage, literally. Our drum kit cost all of $3. My mother bought me a snare which had to be nailed onto a 2'x4' nailed to another makeshift stand. By the time we got up to play, the crowd was impatient and certainly unready for what happened next. Into the first song, a fuse blows in Zokar's amp. Into the second song, the drum's bass pedal flies apart. Trouble with the mic's were a constant annoyance. Eventually, an amp was loaned to use, and we commenced to play, taunt, spew foul language, and play our music. The crowd spat and threw everything imaginable at the group; the Skuds returned the favor. At one point I was so pissed off, I took the mic and asked the crowd: "You wanna hear some new wave music?" The crowd screamed and clapped with a hearty HELL YEAH. My response was quick and to-the-point: "Fuck you, this is punk rock". The Skuds launched into a three-song barrage, and the plug was finally pulled.

The next morning Paul remarked "fuck 'em, we showed those new wavers what punk rock is all about". Shortly after that, Bobby Soxx and Fancy Nancy pulled up to Paul's and said the Skuds blew everyone's minds. They had never seen anything like it. Bobby said "Don't worry about getting gigs 'cause people want more".

HOW WE GOT TOGETHER:
Platinum Paul and Klyde Kock are brothers. Insane Dwayne is their nephew. I met Dwayne and his older brother in high school. It was trouble right from the start. Dwayne's brother got busted for drug use and was expelled. The principal, knowing others had fleed the scene, said he would let the boy return if the other culprits turned themselves in. The culprits, of course, were Dwayne and myself. My mother's advice was to turn myself in. After all, she said, those other boys were nice enough to share their wares. After we all finally made it back to school, I was invited out to Dwayne's house to meet his uncle Paul. "Platinum" Paul and his best friend showed up and new friendships were made and lotsa "party favors" were had by all. Soon after, the three culprits dropped out of school to pursue a life of leisure and "party favors".

By the time 1978 rolled around, the boys soon to be known as the Skuds had turned their backs on the boring world of FM radio. Now, we were listening to early Dictators, Patti Smith Group, Ramones, Voidoids, Stooges, Damned, Vibrators, Saints — you know REAL MUSIC, like the Pork Dukes. One evening Dwayne and I were hanging at DB's (Paul's best friend) house. DB was messing around with his guitar, Dwayne started singing, and I noticed a few pieces of what looked like a drum kit. I picked up a hair brush and half a drum stick and started playing along. DB freaked. He made a phone call and within minutes, Platinum Paul, Klyde Kock, and Jimi Zokar showed up to observe the spectacle.

Within a week, the group moved into DB's garage and began playing our own brand of rock and roll. "Pull Down Your Pants and Dance" was our first original tune. Our group would get together off and on over the next few months. DB had some problems, and the group began practicing at Klyde's. 1979 had rolled around, and Paul had been hanging out at a club in Dallas called DJ's. He told of the Vomit Pigs and played their Take One EP. We asked if all the groups were as kick-ass as the VP's were. He said no one even came close. Not that all the other groups were bad, they just weren't PUNKS. He asked us if we wanted to go show 'em what punk was all about. Our response was "beats playin' where we're playin' now" which was nowhere!

The Skuds would go on to play clubs all Dallas, Fort Worth, Grand Prairie (wow, all over Grand Prairie, huh? — ed.), Austin, Houston and even a parking lot in Arlington and parties at a Mansfield barn. The barn was actually Dwayne's family home. No joke. When anyone asked him or his brother (usually after leaving a door open) "What the hell is the matter with you? Were you raised in a barn?", they could honestly answer YES. Not only would the Skuds play all over the D/FW metromess, we also managed to get banned from every single club we ever played. Dolores Nolley, proprietor of DJ's, was instrumental in getting us banned from several places, only to beg us to return once she got wind of out-of-town clubs cashing in on the heavy-drinking Skuds crowd. Paul repeatedly turned her down. Finally, Paul told her the band would play, but for a price: one hundred beers (or Skudweisers as we called 'em). She agreed, and a huge crowd showed up. We were in fine form that night. Things were great until halfway through the second set when the Skuds were informed that we'd not only drank our pay, but we OWED the club money! At that point, the Skuds were literally thrown out. See, Dolores had actually hired bouncers for the show. We never returned to play at DJ's again even after things were "smoothed over" again. This wasn't the end for the Skuds, though. That would come later. There is more to be told of the band Texas Monthly called "Texas' earthiest punk band" (perhaps something to do with residing in a barn? — ed.).

Stay tuned for the final chapter...


continued on Skuds, part deux


---






CONTACT: Break My Face