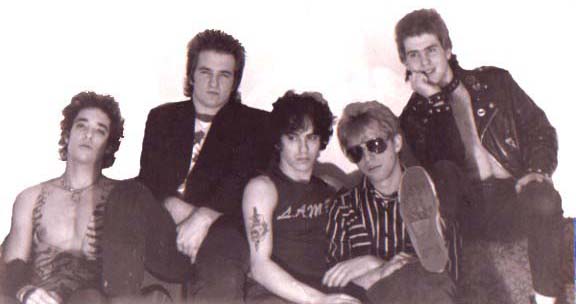 VIOLATORS
As far as the band history, I had met Rich Wretch thru an ad I had placed in the weekly rock rag The Aquarian in the Spring of '79. His last band Paradox had just disbanded. The guitar player had joined the Misfits, and the bass player went back to playing with his friends in a band called the Smithereens. Anyway, Rich and a guitar player Billy Pidgeon came over to my place, and we jammed for about an hour. I was playing guitar at the time — not very well — and I played some of my songs for them. I think I humored them. Rich played me a tape of his old band, I didn't think much of them, but the drummer played exactly the way I had in mind. He said he would keep me in mind and asked if I would play the bass. I said yes. I ran into him at a couple of shows and I gave him a tape of some new "songs" I had been working on. Nothing much became of it.

Then at a Damned show in November (opening act "The Mad") I think, I asked if he was in a band, and he said he had just put one together but that they needed a bass player. I went to his place and auditioned for him. He gave me a tape and told me to learn the songs. We had our first rehearsal and they told me they would give me a shot. This was the first band I had ever been in and in truth the first time I actually had to play a song from beginning to end. Hey, I get bored easily. They had the sound and style exactly like I had wanted. I hoodwinked them into coming to my place to rehearse because my parents had a garage/barn/loft that my brother had his bands practice in. You have to realize that our house was on top of a mountain surrounded by woods, and we had this piece-of-shit dirt road/driveway that would get blown out every time it rained. These guys were from the city. It was surreal to say the least. Somewhere I have an 8-track tape cartridge recording of those rehearsals that I used to learn the songs.

We played our first gig at the show place in NJ as the "Enemy's." Our next gig was on New Year's Eve at a club called S.N.A.F.U. opening for Cherry Vanilla. After the show, she asked if we would be her backup band. I think she liked the sound of "Cherry Vanilla and the Violators". What a tart. I think our next gig was at a club called Club X we opened for the Stimulators. We were a hit after the third song. When we finished the set, the crowd made us do an encore. We didn't know any other songs and told them so. They told us to play the songs over again, so we wound up repeating the entire set. The Stimulators were none too pleased. They would never play with us again. Back then (79/80) the "top" NY punk bands were: The Mad, The Stimulators, Bad Brains, Pure Hell, Misfits, and I guess you could add The Violators. There were a lot of other bands, too... False Prophets, Butch Lust, Even Worse to name a few.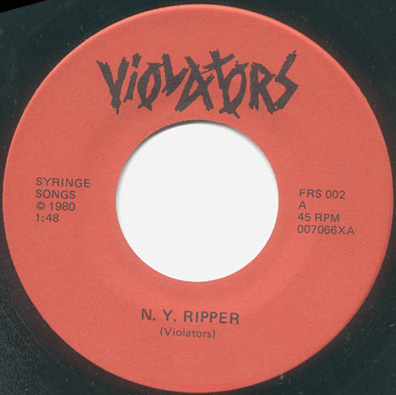 We eventually booked four or more hours at Fox Recording Studio in Rutherford, New Jersey in March '80, I do believe. We had about six gigs under our belt and about the same number of rehearsals before we went in. I don't think we had a practice before we got there. We cut NY Ripper, My Country, No Hope For The Living, and Get Out of My Life. I wanted to press a 45 E.P. with all of the songs but we just put two songs on it, and we were going to use the other two for our next single. The only problem was Get Out of My Life was only one minute, twenty second long, so we had to go back in the studio to record another song. We recorded Kids Stuff, but we never finished mixing it. Get Out of My Life was probably the best song from that session, and it should have been released.

The A-side, NY Ripper, was written at the time the band had rehearsed at the barn at my place. I remember there being a big stir going on about someone killing prostitutes and some homeless people, chopping their heads off and throwing the bodies in dumpsters. I suggested that be the theme of the song, and I think I helped write some of the lyrics. It was a group effort.

We pressed 500 singles with me, Steve Fix and Rich Wretch putting up the money for it. We sold them to local record stores in and around NYC. Later, I went out to California and sold some in the Bay area... about 50 copies. The 45 was well-received. We had a gig at Max's around the time we released it. Stiv made a stencil and spray-painted some crude pic sleeves with "Violators" in pink. I think we gave out about 50.

That was a good show. I think Legionaires Disease from Texas opened up the show, we were fans of theirs. Baaaa.... they were fuckin nuts! The lead singer walked across the tables that they had lined up in three rows in front of the stage then he took off his artificial leg and started waving it around while he was singing. What a lunatic! We went on afterwards and probably had our best show. I remember walking out on to the tables, but there wasn't any one holding them from toppling over. Somehow I managed to make it all the way out to the end. Then I started to walk back to the stage and one by one the tables fell over. I don't know how I did it without breaking my neck. So the crowd started dancing and the bouncers started putting the tables back up. The kids kept knocking the tables back over. It was a riot! I think the bouncers made us stop playing and announced to the audience that they were gonna stop the show if they kept it up. After a while the bouncers just gave up because the kids had pushed all the tables and chairs into a big pile and were slam dancing. It was cool. The Violators take Max's Kansas City! We played another gig there and had Johnny Thunders join us! That was pretty cool. We had shows with the Bad Brain and Pure Hell that summer also.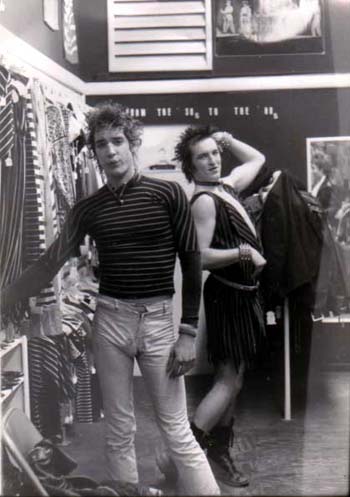 After the Max's show we started to have internal problems, I guess all bands have them. The party life style soon caught everyone, and for 3/5 of the band it became a priority. Everything else for those guys came second. That was the beginning of the end for the band. We soon lost our energy and focus. We had A&M records watch a show at Max's, which went well, but when they came up into the dressing room after the show, some of the guys were taking care of their needs when they walked in and they just turned around and walked out. We did some gigs with the Smithereens in late '80 and a few in '81. We'd get them some gigs, and they returned the favor. Pat Dinizio is still one of my friends to this day.

Our last stand was made at a club called the A7. We played there almost every month for about a year. The Undead, Kraut, Minor Threat, Social Distortion, The Hypocrites, Power Trip were some of the bands I remember playing with. The club manager would ask me if some of these bands could play on our bill. Go figure. The rhythm guitar player, Slob, had started jamming with Lenny Steele, the bass player from Pure Hell who switched to guitar. I started jamming with them also. We had a drummer who went to Julliard, and Butchie Lust as our singer. It was a really promising band, but we couldn't get it together. That band later became the Hypocrites with Screaming Mad George on the bass, whom we had tried to recruit as our singer for the band which we were going to call the Hellcats. I wrote the song Make Up that I think they recorded and released on a 45 or a compilation album. I never got credit for it, it was my riff and my idea for the song title, about a girl that I was involved with at the time. Oh well. The Violators days were numbered by this time. Dependency by three of the members made it impossible to book gigs, you just never knew if they would show up. One time a couple guys, by this time one of them had kicked it, didn't show up for a gig, so I started telling everyone that they had got shot in the Bronx. I booked another gig at the A7 club and called it the "Return from the grave" show. We did one last show at a new club on 4th street. It was pretty bad. We couldn't get it together and stopped playing after about 4 or 5 songs. What a sad way to end such a promising band.

— Jim Revenge
June 2002



---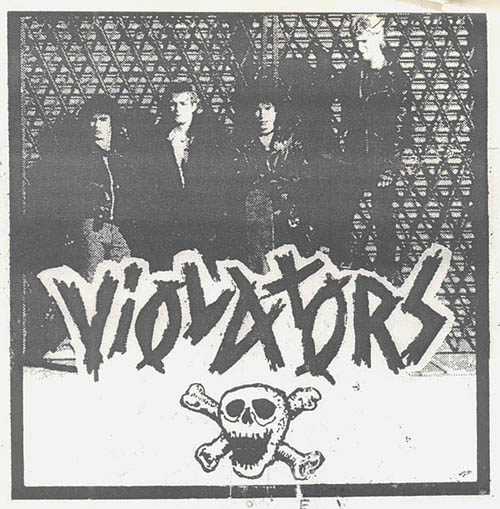 The Violators were...

Lead singer: Mickey Swindle (deceased) from Clifton, NJ
Lead guitar: Steve Fixx from Patterson, NJ
Guitar: Steve Slob from Clifton, NJ
Drums: Rich Wretch from from Lodi, NJ
Bass: Jim Revenge from Schooley's Mountain, NJ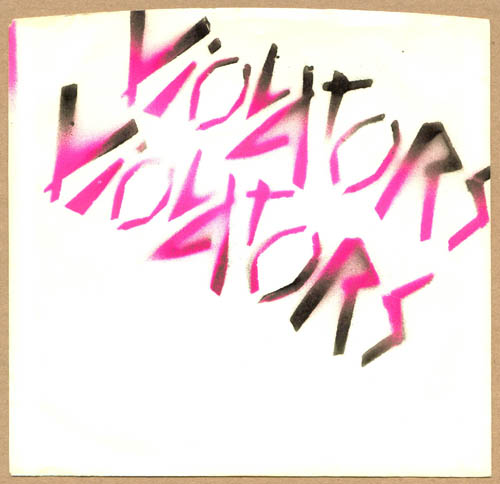 The exceedingly rare gig-only Violators stenciled spraypaint pic sleeve. Some were pink, some black, some both.
---






CONTACT: Break My Face