WEIRDOS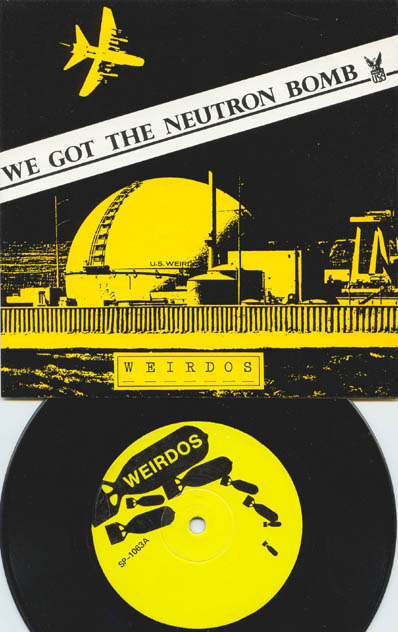 WEIRDOISM
by John Denney

From 1977 until 1981, The Weirdos were a do-it-yourself operation from top to bottom. Not only did we write and arrange our music and lyrics, we ripped up and reassembled our clothing, cut own own hair, and designed all our logos, bumperstickers, t-shirts, record sleeves and flyers ourselves, not to mention forming the crew that flyered every telephone pole from here to Timbuktu, all done in the purest expression of Weirdoism.

We're all quite proud of being recognized as one of American's first Punk Rock bands: truth be told, we were a little apprehensive about that label at first. To us, Punk Rock was what was happening in London (Pistols, Clash, Damned, etc.) We distanced ourselves by proclaiming that we weren't punks, we were weirdos from Hollywood! We hoped our music reflected this — we thought the best way to be different was to be contrary. Irony was our form of rebellion — we adorned ourselves with happy faces, peace signs, plastic flowers and assorted doo-dads — accessories that were decidedly un-punk. But in July of 1977, Time Magazine printed a photo of the Weirdos as part of a Punk Rock feature story, so we relented and accepted the L.A. Punk Band classification. So much for artistic integrity.

The Weirdos had their beginnings way back in 1971, when I met Cliff Roman in an art class at North Hollywood High School (art being one of the few classes I attended with any regularity.) Cliff and I became good friends, our comraderie centered on discussing art, music, girls, and all things weird. We experimented with music, even going so far as to call ourselves a band, which no one who knew us well took too seriously. Our imaginary band went by an assortment of names, including Los Lords, The Razorblades, and Scab Country. We adopted pseudonyms, Cliff calling himself Young Metal, I was Revlon DiDi, and our cohort Steve Welborn went by the name Bitch Cracker.

We took trips, created artwork, engaged in sophomoric yet spirited conversations about art and the meaning of life. We fancied ourselves as some sort of new neo-Dada Beatniks, replete with cropped Mod-like haircuts and kooky sunglasses. Besides our reverence for Duchamp and Man Ray, we explored music with equal vigor. We soaked up everything from Stockhausen, John Cage, Louis Armstrong, and Miles Davis, to Rockabilly, Surf Music and Captain Beefheart. We went to shows, including witnessing Iggy and The Stooges at the Whisky A-Go-Go in 1973. At one point Iggy made his customary leap into the crowd, and we were face to face with him. Cliff seized the moment by pulling out a red marking pen and swiped a large "X" on Iggy's bare chest. Iggy didn't even flinch, continuing the rest of the show with Cliff's "X" on his chest. A brilliant piece of art, I thought.

Soon, Cliff went to Cal Arts, and I went to the beach. Cliff met a fellow student by the name of Dave Trout, who shared many of Cliff's interests and opinions with respect to art and its presentation. This resulted in their collaboration on several art projects.

At the time, Performance Art was emerging as a movement at Cal Arts, and the art world in general. In that atmosphere, they had the idea of starting a rock band as performance art — and the potential for fun seemed boundless.

At the same time, my younger brother Dix was taking a course in sound engineering, as well as surfing and playing guitar in a garage band. I was studying acting (or acting like I was acting). The timing was great. Cliff and Dave wanted my brother and I to form a band with them. A few jams later, the Weirdos were born, in December 1976.

In March of 1977, while rehearsing at a Hollywood studio, we were approached by Peter Case and his band at the time, The Nerves. They asked if we wanted to play a gig on April 2nd. Despite having no drummer, we couldn't refuse. We performed drummerless for three shows, until our MC, Phast Phreddie, hooked us up with a wild young guy named Nickey Beat. After one rehearsal we asked him to join the band, with the condition that he cut his long hair. Two minutes later he began burning it off, until we stopped him (due to the stench) and assured him that scissors would do the job just fine. As Nickey would tell you, the rest is history.

Later that month, The Damned came from London to L.A. (the first British punk band to do so) and when they came to check out our show at the Orpheum, Captain Sensible jammed with us on a bombastic version of "Pushin' Too Hard". By summer we were headlining the fabled Whisky and had generated a rabid following, which Kickboy Face of Slash called "Weirdomania."

Other locals like The Dils, The Screamers, and the Germs began making noise of their own. Shortly thereafter, Brendan Mullen opened the Masque, a basement club in an alley off Hollywood Boulevard. By that fall, Hollywood had an indigenous Punk scene, and a wild one at that. There was a slew of terrific bands, most notably The Skulls, The Controllers, Arthur J and The Gold Cups, The Eyes, The Alleycats, The Deadbeats, Black Randy and The Metro Squad, The Zeros, The Dickies, the Go-Gos, and X.

Around this time, a band from Ohio called Devo came to town and cleverly volunteered their services by opening up for the Weirdos on a number of occasions, which they parlayed into a record deal with Warner Brothers. Bravo!

My last acknowledgement: Musically speaking, the Weirdos were a speeded-up Rock and Roll hybrid, equal parts Stones, Faces, Who, Stooges and New York Dolls. But without a doubt, the main catalyst in the development of the Weirdos was the release of the Ramones' first album. That's what pushed us over the edge. See kids, we respect our elders.

Over time, as our musicianship improved, the wacky trappings of our get-ups began to fall by the wayside, much to the chagrin of our early hardcore following. As we broadened our audience beyond the borders of Los Angeles county, we continued to refine and redefine the band. We embraced change as an essential aspect of The Weirdos ethos. Ultimately, this growth and change meant going our own ways, but those were the days!



The above originally appeared in the great book Fucked Up And Photocopied
---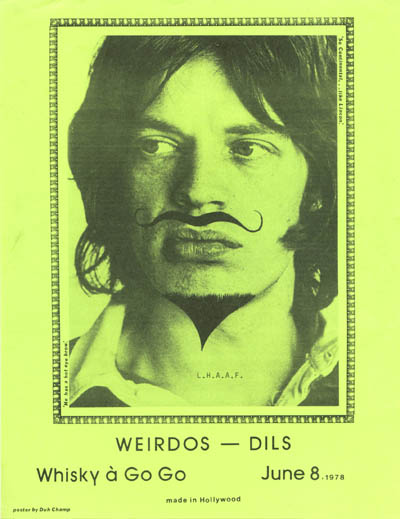 Hey! You! Get offa my cloud and check out my other Weirdos page here.

---






CONTACT: Break My Face