SIMPLE GRADING TERMINOLOGY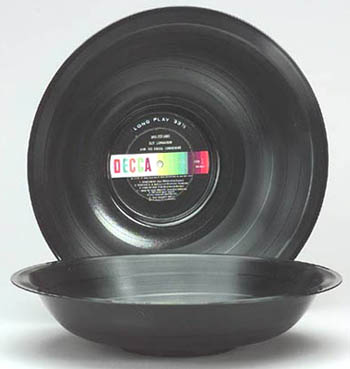 Mint (M): As new as the day it was released. Qualifications like "mint for its age" or "mint compared to other copies I've seen" are irrelevant. Mint means flawless. Period.

Near Mint (NM or M-): A beautiful record, a "played once and put away" scenario. Picture sleeve might have some negligible yellowing but is otherwise clean with no creases, bends, ring impression, or ringwear.

Excellent (EX): Record has minor "in and out of the paper sleeve" hairline scratches but no stand-outs. Carefully played. Picture sleeve has a singular flaw: price tag sticker shadow, a tiny tear on the back flap, curling at the top of an oversize sleeve, slight ring impression from where the record sat in the sleeve.

Very Good Plus (VG+): Used but not abused. Some surface marks which are apparent to the eye but do not cause pops, ticks, or skips. A common grade for frequently played faves. Picture sleeve might have some ring wear or ruffling from being in the bargain bin or small tears or creases on on the corners.

Very Good (VG): Played often and rarely put back in its paper sleeve. Plays with some surface static and has lots of cosmetic no-no's. Think jukebox. No skips or thunderous, repeating pops. Picture sleeve has an aggravated combination of flaws like seam splits, tears, creasing, price tag sticker pull, owner's initials, etc.

If condition is less than VG, you've got yourself a Party (P) record which is — with few exceptions — worth more to you than it is to me. If you can't play it, make a bowl out of it (sample above lifted from eco-artware).



---

back to WANT LIST
back to BMF home page