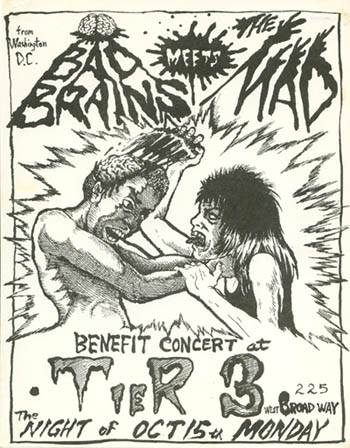 BAD BRAINS
Back in Washington D.C. in 1977, four black guys formed a jazz/funk outfit called Mind Power. "All the while we was jazz, we wanted to innovate," HR says. "We wanted to be part of something new and different and real. We was continually seeking. And then I saw the Sex Pistols album, and I said, 'BOOM! This is it!" The credit for introducing safety pins and punk rock goes to Sid McCray, an early vocalist for the band.

Influenced by the Pistols, Eater and the Clash, as well as Led Zeppelin, Mind Power changed their name after six months to the Bad Brains and dove head first into punk rock. It was the Clash's version of "Police and Thieves" that introduced the band to reggae. The foursome bought a house in suburban Maryland. They went to jobs and school during the day, and rehearsed furiously at night to build stamina and speed.

After 6 months, the band ditched their daytime commitments (among them: washing cars, laundering clothes, and working in a bomb factory). HR forfeited 3 years of pre-med to go professional. They distributed flyers outside DC new wave clubs for a free show in their house basement. "It was different, because we were all black and playing punk rock music. The news spread around DC," HR says. "Before we had even played our first show, people were coming up to me telling me how good the Bad Brains are."

After a series of bi-weekly gigs, the more established venues followed. The legions of young fans who followed the band religiously included future members of the Teen Idles, Minor Threat, Scream, and S.O.A. However, after a verbal battle with police (who tried to pull the plug on an outdoor show) and ejections from larger venues, the Bad Brains found themselves blacklisted by area clubs, hastening their departure from Washington D.C.

Before they left, the band recorded at Don Zientara's home-based studio, Inner Ear, in Arlington, Virginia (where all the early Dischord bands recorded). These 4-track recordings were eventually released as Black Dots in 1996 on Caroline Records. This session is absolutely incredible punk rock, a document of blistering hardcore whose intensity would rarely — if ever — be matched again by any other band.

In 1979, the Bad Brains left for New York City. In December, the band recorded a debut 45 on their own label ("Pay To Cum" b/w "Stay Close To Me"), which was later included on the widely distributed Let Them Eat Jellybeans compilation LP. The first pressing of the "Pay To Cum" 7in. lists two separate Maryland addresses (one on the label, a different "Fan Club" address on the sleeve) indicating that the ties to DC weren't completely severed. The band would later repress the single in New York City and issue it without a picture sleeve (red & tan labels instead of the brown & white of the first pressing). "Pay To Cum" shattered any previous claim to a land speed record (probably held at the time by the first Middle Class 45). The amazing "Don't Bother Me" also appeared on the Best of Limp compilation LP in 1980.

Earlier in 1979, the group had attended a Bob Marley show which, for them, was a spiritual epiphany. By the time the band moved to the Big Apple, they had collectively adopted the Rastafari religion. Their newfound beliefs focused on survival through righteous action and thoughts, or PMA (positive mental attitude). HR lifted the PMA concept from a self-help book called How to Think and Grow Rich. "PMA" appears in large, unexplained letters on the insert for "Pay To Cum".

1982 saw the release of the Bad Brains cassette on ROIR. The songs, recorded in the last months of 1981, are another incredible studio effort, more polished than the Inner Ear recordings. First appearances of songs like "Big Takeover" and "Sailin' On" proved the band was as intense as ever. 1983 saw Ric Ocasek extend an invitation to record at his Boston studio. This session resulted in the Rock For Light LP originally released on PVC.

Around that time, the Bad Brains intended to split into three tangential bands. The primary band would be Zion Train, a seven man outfit playing only reggae. A second band would be called "HR", featuring HR backed by three members of New York's the Mob, playing only hardcore. A third project called 101 would involve HR and Zion Train member Judah Selassie. The two will tour and use local reggae bands as back-up, much in the manner of touring Rasta DJs.

This plan included using money generated by 101 to fund HR's and Judah's pilgrimage to Ethiopia, where HR planned to take a second wife (Rastafari doctrine permits up to seven). Any additional profits would be used to establish a 101 Headquarters in Nigeria in the same vein of a group house and Rastarafi organization the band set up in Brooklyn.

Whether any or all of these things came to pass is unknown to your humble narrator. I've chosen to cut off the narrative circa 1983 as Break My Face bylaws dictate only extraordinary exceptions past that year — not to mention that, unlike Rastafari, we have a two wife max per person around here. The Bad Brains continued recording and releasing records well into the 90's and may very well still be around in some form. Jah bless 'em.

BAD BRAINS were: Paul "HR" Hudson (vocals), Earl Hudson (drums), Darryl Jenifer (bass), Gary "Dr. Know" Miller (guitar). And, by the way, "HR" is short for "Hunting Rod", a childhood nickname.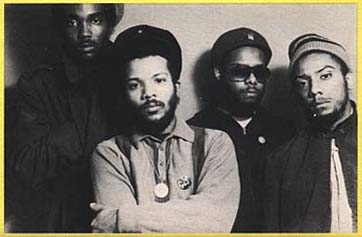 The above is a composite of two pieces, one by Don Howland in Trouser Press magazine (12/83)
and one by Anthony Countey (Bad Brains manager) in the liner notes of the Black Dots LP (1996)
---






CONTACT: Break My Face