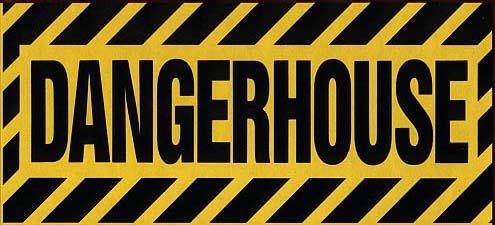 This page is an homage to Dangerhouse (the best goddamn punk label ever) and all the great bands on the Dangerhouse roster. The obvious necessity for this page came crashing down in a strangely synchrous transglobal zap... from Sydney, Australia, Henry Weld sent me a note with the idea just as I sat down in Austin, Texas to scan some sleeves for the very same page I'd been planning for weeks. We split the grunt work of typing and scanning. The bulk of the text is based on an interview done by Tim Yo (RIP) in Maximum Rock & Roll #99 and David Brown's liner notes to Dangerhouse Volume One on Frontier Records (both written in 1991). Other excerpts include Mel C's interview with Penelope Houston in Shredding Paper and the liner notes to Deadbeats: Live At The Whisky 1978 CD on Sympathy.

For collector nerds, Dangerhouse runs the gamut of discographical issues. Most releases are or appear to be single pressings (though many were pressed in several batches), some have very slight variations (large spindle hole vs. small spindle hole), and others have distinct pressings with different color vinyls, etc. The discographical information is listed after "BMF".

And now a word from Mr. Weld from our satellite office down under...

In the spirit of High Fidelity here's the Five Best Things about Dangerhouse:

1. "Solitary Confinement" by the Weirdos, as great as anything released worldwide in 1978 and still one of the five best US punk songs ever.

2. "Survive" by The Bags, maybe the greatest femme-voxed yowl ever set to vinyl.

3. "Class War" by the Dils, that's three out-and-out classics already, most labels would kill for one of these. I haven't even got space in this list for "Let's Get Rid Of New York", "Prolixin Stomp", "We Are The One"...

4. They pioneered the 1.5 sleeve — a full front but only a half back, inspiration I believe for a certain EV Records label many years later. Also the way they put the records in foldover plastic bags "sealed" with little coloured dots and longer stripy strip stickers.

5. Pass The Dust, I Think I'm Bowie: still my favourite album title of all time. Also the "I wanna shoot a cop and I wanna see him die" line in "Trouble At The Cup", a nice L.A. '77 update of the finest line in pre-punk American poetry — Johnny Cash's "I shot a man in Reno, just to watch him die."

Finally I guess no one else around here is gonna do it so it's up to me: Howard Werth's "Obsolete" is a great song, zera zera zera zera.

Without further ado, the story of Dangerhouse Records...
Once upon a time (197?) in a magical kingdom called L.A., there was a defect in the space/time continuum known as "punk rock". Only in such a depraved environment could Dangerhouse have existed. Dangerhouse, created by the triumvirate of yours truly, Pat "Rand" Garrett and Black Randy, was a highly naive attempt to create a politically and artistically correct playground for the unique, nihilistic talents of the L.A. punk "scene". It was clear something needed to be done.

In the beginning there was a lot of musical talent which was going to unrecorded waste. Whereas the English musicians had been set upon by some of the top producers in the business, the very lack of commercialism implicit in L.A. punk seemed to drive away potential resources. Those were culturally weird times, Saturday Night Fever and burned-out super group remnants filled the airwaves. Clearly SOMETHING was better than nothing. The early groups (like the Screamers, Germs, Weirdos, Black Randy) were very good at manipulating the local venue owners and press, and were able to almost immediately fill clubs and halls with folks who were just plain bored and curious.

The Masque, KROQ, Farrah Fawcett-Minor's apartment behind the dirty bookstore, the Starwood, Whisky... I refer the reader to the insane, speed-enhanced ravings of Claude Bessy in the early Slash magazine as there just isn't enough room for that kind of background. Suffice it to say that the scene had everything: every kind of self-abuse imaginable, negative social patterns, infighting, gender-fucking, etc. What needs to be talked about here are the musicians and other creative forces at work behind the scenes on the Dangerhouse product.

Starting out, the studio was anywhere we could plug in; later, our home was the Kitchen Sync with the extremely copasetic Mike Hamilton as engineer. Here was a man who watched us accidentally pour a dark Heineken over a 16-track mixing console (installed that very day) without crying or punching out the culprit. Over the years, Mike patiently sat while irate punks insulted his intelligence, and offered great 8- and 16-track advice to Pat and I, refugees from a 4-track world. To Dangerhouse, and the fans, the sound quality was paramount. (Even KROQ demi-god, Rodney Bingenheimer, stated in a period interview that Dangerhouse put out real records on real plastic!)

The do-it-yourself aspect of the production and packaging spoke for itself. We created ideas for affordable products which set the pace for imitators, like the clear plastic-bag 45 sleeves (because traditional sleeves cost more than the records to be pressed) and the multi-color silkscreened picture disc used for YES L.A. Sad to say, the downturn of the record business in 1979 due to the soi-distant "oil embargo" hurt everyone in the record industry and made it too rough a row to hoe for Dangerhouse. Tough titty.

These recordings still sound as powerful and relevant as the day they were cut. If you, Mr. or Ms. Consumer, care about creativity as opposed to the number of units shipped, it was a victory. And if there was ever a label that released cool shit, over which I'd rather have been A&R man/Prexy, it sure as hell doesn't come to mind.

— David Brown



---


Timmy (TY): When did you first get involved in Dangerhouse Records?

Dave Brown (DB): I was in a band called the SCREAMERS who were basically a bunch of homosexuals out in Hollywood who had read too much New Musical Express. Kind of believed too much of it and sort of decided that they'd adopt this whole attitude toward it. I was one of the original members of that, and they booted me out at one point. That was around the time that I started hanging around with Black Randy a lot. So we decided that we'd get together with a friend of KK, the Screamers drummer Keith. He had a friend who just moved from Oklahoma named Pat Garrett that he thought I should meet, and Pat and I just hit it off right away. So we decided to have a record company. This all happened in about a week, about July - August 1977.

TY: There was a guy Dave Gibson from Moxie Records. Did he play any role in this, I remember him then and I thought he had something to do with Dangerhouse.

DB: I used to have a friend named Richard Gibson who I met when he lived in a cabin at the top of Echo Park. A little hill there. He just lived with a cabin full of 45 RPM's from the 50's and I thought that was so fucking cool. He later went on to move into this house over by 3rd Street. It was one of those old L.A. classic home style. Kind of clapboard, almost like I would think of as a Cape Cod or something. Anyway, so Dave, lived downstairs and he was a sixties collector, and his brother was upstairs and he was a fifties collector. They were totally out scouring for records, bringing back stuff. Invariably, Richard would get something Dave would want, and vice-versa. So this one day Richard had got this sixties record, and he wouldn't give it to Dave — it wasn't that he wouldn't give it to him, he just wouldn't give it to him that day. And his brother got so mad he went out and took a ballpein hammer to his brother's car and just put all these dents in it. What a guy! Later on, I was sitting on the front porch and these little kids came running around, and they would point up at the house and refer to it as "Dangerhouse". They were about four or five years old, and it was their idea of a very scary place — that this enormous guy would come out with a ballpein hammer and just start smashing this car. That's where the name came from. I lived upstairs for about six months. I'm sure there was some bitterness with Dave because he ran Moxie out of downstairs. It just got too intense after a while, as you could imagine.



---


RANDOMS ~ ABCD b/w Let's Get Rid Of New York 7in.
(PT1 — released December 1977)

Pat Garrett: vox, guitar
John Doe: bass
KK Barrett: drums

DB: We put together some tapes that Pat had recorded himself. The first thing he and KK had done was "ABCD". It was recorded in like, I don't know, a stairwell in Oklahoma State University dormitory. These guys were very young, just out of college. He recorded the other side, "Let's Get Rid Of New York" in different rooms of his Hollywood house on four track. I remember watching Pat cut the vocals in the kitchen, and having to go home and change clothes because I pissed in my pants from laughing so hard. Pat had a real talent for recording. I was blown away by the fact that he could not only play the drums and the guitar, and all the other stuff, he seemed to really understand the critical level of how studios worked, and how you shouldn't work them. Anybody can stick a microphone in front of a drum kit but it takes real expertise to make it sound like a real record. So the Randoms was the first Dangerhouse record. We pressed maybe 1500. They also only played one live job.
BMF: Black vinyl only. 2050 pressed in three batches November 1977 - March 1978.
---


BLACK RANDY & THE METROSQUAD ~
Trouble At The Cup b/w Loner With A Boner + Sperm Bank Baby EP
(MO721 — released December 1977)

Black Randy: vox
Bod Dead: guitar, vox
KK Barrett: guitar
David Brown: piano, rhythm machine
Pat Garrett: bass

DB: I can say anything I want to about Black Randy because he's dead. He was a tragic mixture of genius and self-abuse, writing lyrics in PCP/alcohol/diabetic stupors which mirrored the despair of the human condition in a way that deserved immortality. The Metrosquad, which I had the pleasure to direct musically, revelled in grotesque parody mixed with sophisticated musical texture.

So Black Randy had written some powerful lyrics and we set about putting those to music. "Trouble At The Cup" was recorded at what used to be a motel but got turned into sort of a recording studio — but you had to bring your own equipment. It was very different. John Doe, Exene and those guys all showed up really drunk. I don't think anyone could really later believe what came out of those sessions, and while the army of teenage hustlers never materialised to fight the LAPD, "Trouble At The Cup" still makes for a spunky number.
BMF: Black vinyl only. 2050 pressed in three batches November 1977 - February 1978. Matrix number "MO279" does not jibe with catalog number "MO721" listed on label.
---


AVENGERS ~ We Are The One b/w I Believe In Me + Car Crash EP
(SFD400 — released December 1977)

Penelope Houston: vox
Greg "Scars" Westermark: guitar
Jimmy Wilsey: bass
Danny "Furious" O'Brien: drums

DB: Then we talked to a couple of bands, such as the Avengers, who were very popular at that time. I had gotten to know them with the Screamers because we played at the Mabuhay Gardens in San Francisco a couple of times with them, and they seemed to be real kindred spirits. So we arranged for them to come down to Hollywood and we recorded an EP of theirs at a recording studio that Pat pulled out of the L.A. Weekly, called the Kitchen Sync. And most of our recordings were to be done there over the years. The Avengers was the most popular Dangerhouse release.

Penelope Houston: Dangerhouse was run by a bunch of guys and some of them were friends of mine. It was KK who was in the Screamers and David Brown who was in the Screamers once playing synthesizer, there was Black Randy, famous on his own and um... oh Bob Dead, and Pat Randall, uh.... Rand McNally. All of them were there at the recording. They were all singing on the chorus of "We Are the One" I think it was. It was pretty funny.

It was recorded in Los Angeles at Kitchen Sync Studios. We did three songs in ten hours or something like that. There was a guy there engineering it. He came with the studio. He actually did his own mix of "Car Crash" that had police sirens in the background. I'll never forget that. Of course, we didn't put that out, but I'm sure it's around somewhere.

It was my first time in a studio. It was really terrifying. When we did "I Believe In Me", we just did a test vocal to record the tracks along with and when it came to do the vocal I just said to leave that one on. I was too nervous to go in and do it. And it was so sorta spur of the moment as you can tell if you play that one it's a... everything was made up in the top of my head.

The record came on black and red vinyl. Dangerhouse went in and the company had run out of black vinyl, and they said "Well we have to have these pressed." [The pressing plant] said "Well, you can have it on red vinyl." So there it was.
BMF: 1st pressing: crucifix sleeve, incorrect "33 rpm" on label (often crossed out in black marker) + 2nd pressing: target sleeve, red vinyl + 3rd pressing: target sleeve, black vinyl
---


DILS ~ 198 Seconds Of The Dils 7in. [Class War b/w Mr. Big]
(SLA268 — released December 1977)

Chip Kinman: Vox, guitar
Tony Kinman: lead vox, bass
Pat Garrett: drums

DB: The Dils were the most explicitly political band at the time, bouncing up and down the West Coast playing their frenzied Maoist messages. They were always sincere in their uncompromising stance, and were direct in their stage presentation to the point of making one uncomfortable. Pat plays his unique style of drums on this recording, he was in the band for a while.

TY: He was their first drummer?

DB: No, he replaced the first drummer, Andre, who was on the What Records recordings.

TY: I didn't meet them until they moved up to San Francisco.

DB: Pat was second and then you met the guy who replaced him, John Silvers. Pat had kind of a fascinating drum technique. It was called "the Okie shuffle". He didn't know a lot of different things to play on the drums, but he had a remarkable talent for... almost a savant thing... he'd just pick something up and start to play. So he did it and went on tour with the Dils for awhile. It was pretty funny because if you know Pat, his politics were probably about 180 degrees in the other direction from the guys in the Dils, but they seemed to get along fine. There was no real problem over it, they just got sort of tired of it after awhile. That record came out right around Christmas of 1977 I believe.
BMF: Black vinyl only. 3000 pressed in three batches November 1977 - March 1978. Small spindle hole and big spindle hole variations exist, though they do not indicate a particular batch.
---


WEIRDOS ~ We Got The Neutron Bomb b/w Solitary Confinement 7in.
(SP1063 — released March 1978)

John Denney: lead vox
Dix Denney: lead guitar
Cliff Roman: vox, guitar
Dave Trout: bass
Nickey Beat: drums

DB: Without a doubt the Weirdos were the most creative and visually overwhelming band on the scene. Perhaps closest to the sounds of mainline English punk, they created the most convincing wall of distortion/sound of any L.A. band of the period, well-evidenced by the visceral "Solitary Confinement".

Black Randy and I lived in North Hollywood at the time and the Weirdos and Don Bonebrake from X lived within about three blocks of us. The Weirdos session went extremely well. Pat moved from a 4-track to an 8-track. I'm still amazed when I listen to what he made with 8 tracks. They were very adamant that we had to press at least 5000 copies, just because of the jealousy created by the Dickies and other people who were doing well. They couldn't handle the idea that they weren't selling at least that amount. I never did get rid of those records. I think most of them were finally ruined in a flood in my basement at one point. But we never sold over two, two-and-a-half thousand copies.
BMF: Black vinyl only. No variations.
---


ALLEY CATS ~ Nothing Means Nothing Anymore b/w Give Me A Little Pain 7in.
(LOM22 — released March 1978)

Dianne Chai: vox, bass
Randy Stodola: vox, guitar
John McCarthy: drums

DB: The Alley Cats were from Lomita in South Bay. Michigan emigre Randy Stodola was the songwriter/guitarist and driving force, with a penchant for surreal narrative in his lyrics. His wife, Dianne Chai, on bass, and John McCarthy on drums made for one of the tightest outfits around. Musically they probably most resembled meat 'n' potatoes more than any other Dangerhouse punk act.

The Alley Cats was really my first opportunity to really get to run a session and everything they did just ran like clockwork. We just basically stood there letting the tape run. It was amazing how professional some of these bands were. At this point we were starting to get recognition for the fact that other people had tried to put out things like that but had a very hard time getting them to sound professional.
BMF: Black vinyl only. 2500 pressed in two batches January 1978 - April 1978. Two picture sleeves issued: first a black & white "live shot" foldover PS followed by a color "lounge" PS which is simply a double-sided 7" x 7" square.
---


X ~ Adult Books b/w We're Desperate 7in.
(D88 — released April 1978)

Exene Cervenka: vox
John Doe: bass, vox
Guitar: Billy Zoom
Drums: Don Bonebrake

DB: X provided that rare mix of songwriting, personal charisma and musical expertise. More than any other band, their personalities were evident in their music, and were never even slightly conventional or dull. We'd been good friends with X for some time. I'd actually been in an early incarnation of X. We used to play at their house. I played an electric piano that I think Billy Zoom provided. It was just something that was lying around. That didn't last for very long. Anyway, the X single didn't really go over as well as was planned for some reason. As a matter of fact it was the only record we ever got returns on. Hard to deal with. They had really put a lot into that recording in terms of performance, and you could really feel it. There was a lot of disappointment with them. It didn't take off as much. Although again, all their critics were delighted.
BMF: While this release was a uniform black vinyl pressing (presumably pressed in batches like the others), the test pressings were done on clear vinyl thereby creating an extremely desirable and vexing item for the Dangerhouse completist. Six known copies.
---


BLACK RANDY & THE METROSQUAD ~
Idi Amin + I'm Black And Proud Part 3 b/w
I'm Black And Proud Part 14 + I Wanna Be A Nark EP
(IDI722 — released April 1978)

Black Randy: vox
Bod Dead: guitar
Tom Hughes: bass
KK Barrett: drums, guitar
David Brown: keys
Pat Garrett: guitar, drums

DB: We're talking about April 1978 at this point, the X single and another Black Randy EP. I have to emphasize that at this point it was basically just us throwing a few thousand dollars away. Maybe at some point somebody thought we had money or backing or something like that, but this was totally garbage. I worked at my little job in aerospace. I think Pat was a design engineer at Hughes Helicopters. Very much the opposite from the lifestyles of most of the people making the music. We would go out night after night and just see what we could put out next because it seemed like we could do no wrong. We had very strong backing of the people at Slash magazine. I did typesetting for them, and they used to run my reviews of other people's things. We got good deals on advertising.

Right about this point I think the Dickies burst upon the scene and were able to throw together a major label contract with A&M. This was the first band from the Masque era that had really gone on. They had done it so quickly, it was like a coup. Suddenly a lot of the groups who were recording for us were sort of looking, I don't want to say askance, but sort of that their involvement with us should have been held off because there could have been some real money involved for them. So from this point on, we were sort of dealing with that kind of mentality. They just had this feeling deep down inside that they were the ones who were going to hit the big time. But, sad to say, it never really happened.

We had an interesting couple of visitations from some English management types that came over about the time that IRS records was getting going. In general it was getting harder and harder to get people who were willing to record for us. In particular, the X thing sort of started to fall apart because they didn't want Pat to do the production on that. It was kind of a resentment because Pat was clearly the guiding hand and clearly knew what to do. I guess you could say that the more talented some of these people were, the stronger their personalities were.

So, at this point it was sort of a downhill ride. Things weren't going as well with our interpersonal relationships with some of the bands. I guess you would have to know some of the personalities involved, particularly Black Randy, to get the full impact of this. Negotiations were between Black Randy, who was just a complete liar. He would go out and completely snow people. He would get away with it because he was very likeable. He was the ultimate con man. He was capable of just completely turning on you from one day to the next. Yet you'd sort of want him around because he was talented in a very weird way. I was, at this point, doing all the dog work. All the physical production. Schlepping up and down the freeway. Randy was lying to people, trying to get them to agree to things, and Pat was doing this really solid production. So it was just a really weird combination of personalities that allowed this, to begin with.

It's interesting to note that in the first week-and-a-half the Frontier reissue (Dangerhouse Volume 1) sold four times as many copies of anything we ever sold individually. Certainly the market was there, we just couldn't get to it. In particular we were dealing with sort of small, schlock distributors like Jem Records, Bomp Records. Of course Jem later went belly up owing everybody thousands and thousands of dollars. Greenworld and a couple of others. We tried to work out deals with people in other countries who'd sell for us. We couldn't afford to fly there ourselves and hustle them all the time. They were just as likely to keep the records and screw you out of the money. It seemed to be business as usual at that time.
BMF: Black, green, and orange vinyl issued. The orange vinyl is particularly elusive. Like X's "Adult Books" 45, this EP was test pressed on clear vinyl. The test press labels are numbered out of 13 (of course) and graffiti'd by Black Randy. Three known copies.
---


HOWARD WERTH ~ Obsolete b/w Mango Man 7in.
(DH101 — released October 1978)

Howard Werth: vox, guitar
David Brown: vox jag, piano
Tom Hughes: bass
Joe Nanini: drums

DB: Howard Werth was our token mainstream rock artist. A completely delightful Englishman, who had received not nearly enough acclaim in his country with the early 70's band Audience. There was a guy called David Allen who did a lot of Dangerhouse artwork, who was friends with X and used to live with those guys at the house at 6th and Wilton, and he said that he knew this guy who wanted to make up a new wave trip band, and had I ever heard of Howard Werth? Of course I had because I was listening to all these Audience albums and liked them a lot.

Basically, what it came down to was there was a bribe. If I could get Howard to go in there and just deal with X one more time and come up with a mix of Los Angeles for the Yes L.A. album, I would put out a record of his. We and X were just getting along so poorly at that point that it was that much of a pain in the ass to deal with. He agreed to do it and he wrote "Obsolete" in about a half an hour, just about on the spot. The incredible guitar sound on this record comes from Howard's homemade Zematis (a 20-lb. beast made out of metal).

Everybody always wondered where the hell that was coming from since it was so much different from the rest of the label. But that was the whole point. "Obsolete" drew a skew line across the musical scene and proved the seamlessness of the whole realm of unpretentious self-expression. I personally still like the songs very much. That's about all I can tell you about that. He just appeared and disappeared.
BMF: Black vinyl only. Small and big (less common) spindle hole variations.
CONTINUED ON PAGE TWO
---






CONTACT: Break My Face