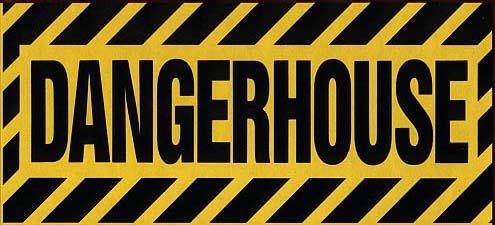 CONTINUED FROM PAGE ONE



---


DEADBEATS ~ Kill The Hippies + Deadbeat b/w
Brainless + Final Ride EP
(IQ-29 — released July 1978)

Scott Guerin: vox
Geza X: guitar
Pat Delaney: sax
Pasquale Amadeo: bass
Shaun Guerin: drums

DB: The musicianship of the young men who comprised the Deadbeats was a joy to behold. Scott Guerin and his brother Shaun played as extensions of the same self, and the band also served to unleash Geza X and Pat Delaney on the world. Their stage act musically and visually confounded every cliché and preconception about what "punk rock" meant. Their unique, driving sound consisted of treated sax and fuzz guitar layered over flawlessly executed intricate rhythm patterns.

Octavio Pretentious: I'm the cat who designed all those Deadbeats flyers that are probably still hanging on your wall. I first came into contact with the band through Cathie Deadbeat. She was the singer's girlfriend and did the band's makeup. You might even say she was a silent co-conspirator in their musical/non-musical assault on the L.A scene. She helped define the Deadbeat look and, brother, I'll tell you the Deadbeats looked like no other band. At least not until the Dickies got an eyeful of them. They shared a bill at the Masque. The Dickies showed up in your typical T-shirt and jeans and did Ramones and Sex Pistols covers. (See Slash #6 for proof...a picture's worth a thousand words). The Deadbeats came on and did the Deadbeats. No more T-shirts and jeans for the Dickies.

Bands may have tried to cop their look, but nobody could cop their sound. Hell, maybe nobody wanted to. On one flyer Brendan Mullen described the band as Bill Haley meets Captain Beefheart in the Theater of the Absurd. Another critic stated that they wanted to confuse. Untrue, untrue. It is my never-so-humble belief that they wanted the masses to share in the joke, but their audiences were just too stupid to get it.

Still, anyway you slice it, the Deadbeats were different. The bass player was a gibbering idiot, but boy could he play. (Some say this was an act.) Slash magazine called the sax player a poindexter squawking on a horn. They had an androgynous drummer named Shaun. (Geddit? Could be a girl's or a boy's name). He got several offers to join all-girl bands. (No, not the Go-Go's.) According to Geza, punk boys secretly fantasized about him, never knowing "it" was a boy. One even claimed his roommate had wet dreams over him. Basic Black magazine called the singer a cross between David Bowie and Felix Unger. Go figure!?!? And what can you say about Geza X? A grown man performing radical psychodrama on himself nightly in front of a live audience. Needless to say, mental illness prevailed.

Unfortunately most people never got to witness this spectacle as the band never made it out of L.A. One rumour has it that Geza's mommy (the real one) wouldn't let him leave the city. Jeez, if you had a son like Geza, would you encourage him to stay at home?

Scott Guerin: If not for a string of chance events the Deadbeats may never have come into existence. My brother was asked to play drums for a band called The Whores for the battle of the bands sequence in Cheech and Chong's Up In Smoke movie. Except he went and got himself grounded for cutting class too much and couldn't do it. So I filled in for him. This lineup was scheduled to play the Whisky but then the singer was forced to back out under the advice of his lawyer. It seems he was involved in a lawsuit with the Whisky so playing there would constitute a conflict of interest. There was only one course of action to take. I moved to vocals and my brother was brought back to fill the drum slot. For me as a singer this was literally on-the-job training as I had never even thought about singing before and truthfully was pretty awful. After a few sporadic shows our guitarist Hilary Haines up and quit and moved to San Francisco. Pat Delaney and I decided to change the name of the band to the Deadbeats.

Nickey Beat (drummer for the Weirdos) had the fucking nerve to recommend one Geza X to us and against better judgement we listened. Geza had just been booted out of the Bags for farting out of key or something equally criminal. I may have been responsible for the original sound and concept for the band but the addition of Geza gave us a rawer, harder edge than we ever had before.

Now as for the breakup of the band, it was down to the usual clash of egos and an over-dependence on substances by certain members that eventually caused the band to implode.

Geza X: Besides the musical sophistication, the best thing about the Deadbeats was the staging. There were no bands doing elaborate things with costumes and props in the early punk scene and we did amazing visuals. Scott was the weirdest dresser on the scene, someone who might wear an impeccable chef's outfit to a gig or even a party; and he had a complete collection of those novelty items you order from the back of comic books, like fake dog doo and whoopee cushions. Some people mistook his style for Glitter and that was a no-no in the early days but the cool people all got that it was dada.

One time at the Masque, as an intro to the song "Brainless", we wheeled out a mannequin on a cart and proceeded to cut its skull open to reveal several handfuls of blood drenched cow's brains, some of which ended up on an unsuspecting audience. Somehow the photographs of that show came out with that magic glow you see in the finest performance art books and we used them on many a flyer.

Another time before a show at the Whisky, we were at the beach and there had been a major storm the night before. I collected a huge mass of abnormally large seaweed and washed it off so it was slimy but clean. During the show that night, I went in to the "Mean Mr. Mommyman" routine to the usual heckling from the "real" punks (the lizard brains who used to come on weekends and show how cool they were). So I ran behind my amp and grabbed two hefty trash bags, from which I heaved a lot of seaweed right into the audience. At first they thought it was rubber, but when it made contact and the smell got around, panic set in and everyone moved way back so there was a large open space in the front. I said something smartarse like "Oh, did it get on you? Just wait a minute..." and ran up the stairs to the backstage area where I had hidden the piece de resistance from everyone (including the band). I came back down the stairs thump, thump, thump dragging a single, perfectly shaped seaweed bulb, the kind with a pointy ball and fins, except this was the granddaddy of all life on earth, being about 11 feet long and about 3 feet wide. To everyone's fascinated revulsion, I chucked it into the slam pit where it exploded in a pile of goo. There was a moment of absolute silence after that. Somehow, that stands out as one of the most hilarious moments of my life.

Pasquale Amodeo: I've always thought it appropriate that I'd be lobotomized before gigs and transformed into a babbling idiot savant bassist unable to pronounce one single word yet play this incredibly intense music.

Shaun Guerin: The scene was so new and experimental and it didn't matter if anyone could really play their instruments. I remember being at the Masque and watching everyone slamming against each other, having a good time, never realizing what kind of movement they were involved in. It was just something to do.

I'll never forget the time my brother, Scott, kicked Geza off the stage at the Whisky for doing really corny rock star poses, and the cable, still attached to his amp, pulled it off the speaker cabinet. It came crashing to the ground yet still kept on working. Geza continued to play from down in the audience as though nothing had happened.
BMF: Black, clear, and yellow vinyl issued. Clear vinyl is the most elusive. No picture sleeve variations.
---
BAGS ~ Survive b/w Babylonian Gorgon 7in.
(BAG199 — released December 1978)

Alice Bag: vox
Rob Ritter: guitar
Craig Bag: guitar
Pat Bag: bass
Terry "Dad" Bag: drums

DB: The first time I saw the Bags at the Whisky I was a little impaired, but I seem to recall Joe Nanini drumming with an athletic support on his face. He was quickly sacked and replaced with the stone-faced Terry "Dad" Bag. Suffice it to say that no one who ever saw Alice Bag in action will forget it in this lifetime. With Pat Bag on bass, and the duelin' guitars of the late Rob Ritter and Craig Bag, the Bags generated conflict in their stage shows, and understood the art of arranging like thrash bands never did.

Geza X did an amazing job on putting the Bags together. There were some real severe technical problems caused by the machine bias of the studio which we fixed up in the mix. The Bags just played their hearts out, you could really tell. I think that's absolutely the best thing we ever put out, I still get shivers down my brainstem when listening to "Survive". Again I don't think it sold more than about 1200 copies at that time and then they asked us to pull it. At this point just about every band asked us to pull the recording after 1200-1500 records... the Alley Cats, Weirdos.
BMF: Black vinyl only. Some copies have labels reversed with overlayed stickers with correct song titles.
---


EYES ~ T.A.Q.N. b/w Topological Lies 7in.
(IZE45 — released February 1979)

Joe Ramirez: guitar, lead vox
Jimmy Leach: bass, vox
Joe Nanini: drums
David Brown: organ

DB: About this time, maybe late 1978, I joined this band called the EYES. Charlotte Caffey had been playing bass and I think keyboards and stuff. She left to go form the Go-Go's. As a matter of fact Belinda Carlisle and Jane Wiedlin got their first actual stage experience as members of Randy's Blackettes...I know this, I remember this, I have photos to prove it. You have to kind of laugh when you think of these people sleeping with baseball players now. Talk about seeing life from both sides. So the Eyes basically replaced her with two people, me and Jimmy Leach, and then we did a record called TAQN, Take A Quaalude Now, a very tongue-in-cheek anti-drug song. I guess it speaks for itself.

Joe Ramirez, the leader of the Eyes, was a cerebral master of the unexpected lyric in front of the musical conventions of punk rock. His musical concept fit into the Wire keep-'em-coming-too-fast-to-know groove, and the lyrics he wrote with John Richey were way over most people's heads.
BMF: Black vinyl only. No variations.
---


RHINO 39 ~ Xerox/No Compromise b/w Prolixin Stomp 7in.
(RH39 — released 1979)

Dave Dacron: vox
Larry Parrott: guitar
Mark Malone: bass
Tim Carhart: drums

DB: Then we put out a single by Rhino 39, named for a famous virus on the Lysol can. They were a group of high school kids from Long Beach who passed as a powerful and clever punk band. They were also friends of ours, we went a long distance every weekend to watch them for a couple of months, and Randy was interested in doing a record with them. Just really great kids — demented and fun-loving in a way I admired. Their manic speed of delivery bordered on speed metal, but these kids had taste and talent to burn, and there was never the slightest tinge of hatred in their message. They continued for years afterwards, but things were calmer after singer Dave Dacron was killed in a car crash shortly before graduation, truly a case of unrealized but very great potential.
BMF: Black vinyl only. No variations. Perhaps the toughest standard issue to find on the label.
---


YES L.A. compilation 12in.
(EW79 — released 1979)

BAGS ~ We Don't Need The English
EYES ~ Disneyland
ALLEY CATS ~ Too Much Junk
X ~ Los Angeles
BLACK RANDY ~ Down At The Laundrymat
GERMS ~ No God

DB: At this point we were trying to come up with some 12" single to do. I pitched the idea of doing a clear silkscreened album with two colors and suddenly there were 2000 records sitting in my living room with a silkscreen put together. We actually did it, we did screen prints for about a week and a half, all of them by hand. I would say only about 20 or 30 were screwed up. It was a very successful piece of design by Pat, very professional artwork. So I was proud to be doing my part on the production end.

There had been an album done like that in one color, I didn't necessarily cook up the complete idea of doing that. We wanted to do a picture disc very badly, or something that would have saleability, something that would move all of them right away. But we knew that most of the technologies for that at that time were really kind of crappy. You got bad sound quality. So the Yes L.A. idea, not putting music on one side and trashing that side by silkscreening it, meant we could concentrate on the selection of songs and the mastering, or so we thought.

So, at that point we were kind of feuding with Geza X a little bit, because he was screaming about the work we had done with the Deadbeats and the Bags. I guess at that point the Bags were national, but the Deadbeats had never made squat because they proceeded to disband just about the day their record came out and nobody really wanted to buy any records from a band that had broken up anyway. We were kind of feuding with him about some of his production techniques, which at the time was squirrelly because he's such a creative guy and he'd try anything. So we had taken the tapes of the Germs that Slash magazine owned and remixed them the way we would do it — sort of the Geza way. It was interesting to compare. I admire Geza very much for the work he's done over the years and I understand he runs an outstanding studio now, but I haven't seen him in years.

Let's see, the other cuts... the Black Randy cut was something we'd dragged up from the old house on Carlton way back in the beginning when Pat was living in Hollywood. This was the first time X's "Los Angeles" appeared, also from their first sessions. Okay, the Bags, that was the first thing of theirs. Well, the single came out about the same time.
BMF: 2000 one-sided discs pressed on clear vinyl (with the exception of the non-silkscreened black vinyl test pressings). The background graphic is green on all copies. Text colors include: blue, green, red, black, and pink (exceedingly rare). Copies exist with text only, graphic only, and no silkscreen. Yes L.A. marks a highpoint of creativity and quality for the label, unmatched by any label since.
---


BLACK RANDY & THE METROSQUAD ~
I Slept In An Arcade b/w Give It Up Or Turn It Loose 7in.
(KY724 — released July 1979)

DB: At this point things started to get a little nasty with Slash magazine. I can remember, Claude Bessy (Kickboy Face) had been invited to the Green Frog show as sort of like a celebrity guest. He went out there with Randy, and this was a fairly common thing, and got Randy so fucking loaded that he couldn't stand up. I have tapes, and you can just hear Randy rolling around. We had paid to have this eight track mobile unit come and record the thing. Claude managed to single-handedly undo the whole thing. He was handing Randy poppers on the stage at the show and stuff like that. The next morning he sat down and wrote this very scathing review of how terrible the show was. Which, of course, it had been, I suppose. It's bad to blame it totally on Randy but why not? He's dead, I can say anything I want to. [editorial note: Claude's dead now, too, so let's just blame both of 'em and be done with it.] It was definitely Randy's chance to shine and he blew it. Following that up I guess we released the Black Randy album Pass The Dust, I Think I'm Bowie.

BLACK RANDY & THE METROSQUAD ~
Pass The Dust, I Think I'm Bowie LP
(PCP725 — released July 1979)

Later about the same time we were in New York as guests of Steve from the Mudd Club for about a week. Which was very strange because the New York audience didn't really like us at all. He had paid this huge sum of money to fly us all out there and pay for all these expenses and shit, and we just made his life totally miserable the whole time. Joe, Randy, my brother and I just set upon the poor man, and he must have just hated any mention of us after that. In any case, the New York audience was totally mystified by the album. I listen to it now and I guess I can understand their point. There's a lot of different stuff going on for sure. I can't explain most of it, musically or any other way.

Then at this point Pat Garrett just iced himself out of the picture because he couldn't stand Randy's bullshit anymore. He just got more involved with his marriage and family life, and job and everything. I think the only thing we did after that was a movie made by, what's that idiot's name, from Ode Records? Produced the Mamas and the Papas? Lou Adler. He had us flown up to Vancouver and pretend to be punk rock musicians and lipsync to "I Slept In An Arcade" in this movie he was making about punk rock. Randy actually got this very nifty role where he became the bad guy in the movie, which was totally appropriate because he wanted to be the bad guy. It was originally supposed to be All Washed Up. When it was finally released, it was released on cable to Canada and then finally on video, although I've never been able to find it, it was called Ladies And Gentlemen, The Fabulous Stains.
BMF: Black vinyl only on both of the above. The LP includes an inner sleeve with essential BR lyrics.
---
DB: After that we were pretty much out of business. We couldn't con anybody. Pat wasn't interested anymore. Randy had a severe drug and alcohol problem, and I just wasn't able to do it all myself, and nobody liked us anymore anyway. We were considered real scum. I would go on for years after that reading interviews with people who were harmlessly enough giving these interviews, then there would be something awful about me in the middle of it. This must have gone on until 1983. Finally, I just quit reading the L.A. Times County section altogether.

TY: So from that point you pretty much disappeared from the L.A. punk scene?

DB: There was no more scene. That was the other problem. There was a thrash scene, kind of what I think of as an Orange County skinhead sound that was really big at the time.

TY: Black Flag and all that stuff was starting.

DB: I'm not talking about Black Flag, but that's certainly true of all those other bands.

TY: Middle Class?

DB: Not them, they had so much taste going for them. Now Poshboy is back... talk about someone who refuses to die. A couple of years ago it occurred to me that as many bootlegs appeared of our stuff, we really deserved to think about a proper reissue. Then of course along came CD's. Now, working with Lisa Fancher of Frontier, it's been an incredibly positive experience compared to all the ones that came before. I just feel exonerated about the whole thing. I don't feel like an asshole anymore for doing it. I feel like if I hadn't done it then none of those records or sounds would even be remembered today. I don't care what people say about me. It's just worth it — losing all the money that I did, having people say all the shit about the things that I did, just to have those recordings right now is worth it ten times over. So I'm really glad about that.

TY: So there was an album that came out a few years back called Dangerhouse Collection, that was a bootleg?

DB: I think it was Me Want Breakfast, that was definitely a bootleg. Some dude in New York did that. I would get upset but he did such a shitty job that, if anything, it just whet people's appetite for the real thing. Maybe he just helped keep the myth alive. I'll never find out who it was, but I've heard tales.



---

Mind-blowing photos of the Dangerhouse roster by Scott Lindgren are available through Empire Of The Image









CONTACT: Break My Face