IT NEVER ENDS #5
CHILD MOLESTERS ~ Hillside Strangler 7in. (Ace & Duce 1978)
Additional sources: DRR

While two other L.A. punk bands (the Hollywood Squares and F-Word) also seized on the murders for lyrical fodder in 1978, no one packaged the carnage quite like the Child Molesters. For all intents and purposes, this record is a how-to guide on making a classic punk collectible. Combine minimal/non-existent production values with over-the-top band name/subject matter. Press a couple hundred. Whip up a super-limited printed/stamped/splattered/numbered pic sleeve to accompany the vinyl. Age 20 years. Add a couple zeros to original retail price. Watch the collector nerds sweat.

With their original vinyl stashes all dried up, these pedophiles could no longer enjoy the sweet cash harvest reaped from selling spare copies of their first two 45's through the late 80's and early 90's. It was then that Ace Farren Ford added a new twist to the band's time-tested formula. The CM rap sheet would include a new venture: counterfeiting. Circa 1995, a previously unseen variation of the Hillside Strangler 7in. started to pop up. According to people offering them for sale or trade, the source of the records was a Child Molesters member; it had to be legit. The pic sleeve was a light yellow stock but otherwise looked just like the second unnumbered edition of the record — bloodsplats, rubber stamping, the works. Phone calls confirmed the matrix etchings matched (simply "HILLSIDE" on the A-side and "DONT WORRY" on the B-side). And still several collectors (myself included) smelled a rat. It wasn't until the detective duo at Discourage Rock & Roll located a standard issue second press for a side-by-side comparison that Ace's scheme began to unravel.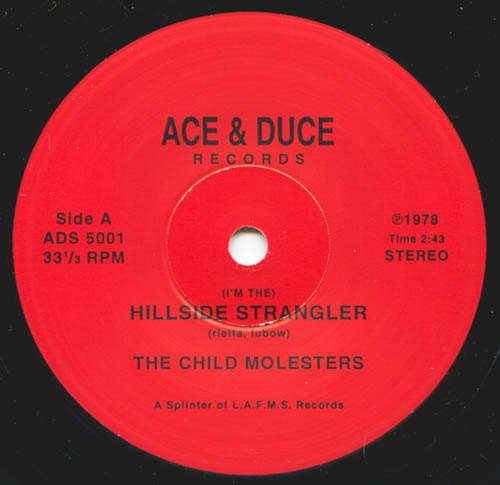 The attempt to produce an exact match of the original labels proved unsuccessful.
"Ace & Duce" less bold, tighter leading between lines, circle P closer to 1978, etc.

— Below is a label from the original pressing —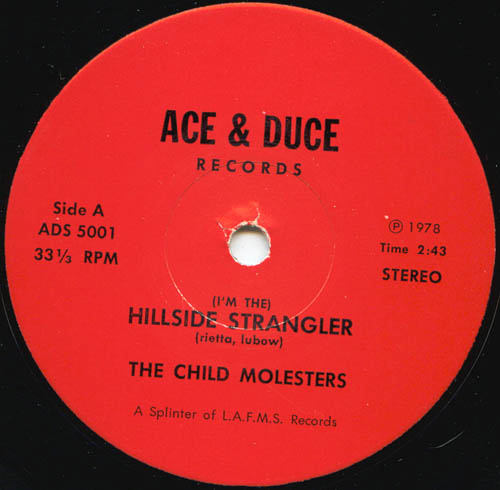 While the matrix etchings said the same thing, the penmanship didn't match. While the labels were similar, they weren't exactly the same (unlike the labels of the original numbered and unnumbered versions). Discourage had purchased four copies from Ace. Two had already sold. Discourage immediately recalled the records and refunded the buyers' money. I know of two other traders who found themselves forced into the same situation. Dozens of collectors were rooked for hundreds of dollars. Eventually Ace made restitution on the four copies sold to Discourage. As far as I know, that courtesy wasn't extended to anyone else. When questioned about the record, Ace insisted anything from a band member should be considered "original" and that anyway how could I or anyone else know more about HIS record than him? Three years later, Ace would concede the argument by re-packaging the counterfeit yet again.

In 1998, Ace decided to take a more righteous path — that path also happened to be the most sensible and profitable. Dust off the yellow sleeved concoctions and re-market for what it is: a really nice reissue. Behold the "20th Anniversary Edition" of the first Child Molesters 7in. (see picture below). For $25, buyers got an as-good-as-it-gets reissue along with a deluxe booklet (band interviews, pictures, and clippings — very cool). Sure, it ain't cheap, but all proceeds go directly to an original band member, not some bloodsucking collector scum, right? OK, well... kind of.

It's hard to know what to believe about the pressing or pressings of "Hillside Strangler". The stated size on the picture sleeves of the two original editions is 400 (two pressings of 200 each). An old letter reprinted in the "20th Anniversary Edition" booklet states 500 pressed. Ace claimed there were also "lettered" versions of the first edition (a la The Maggots). Here's what it all boils down to: if you're a complete record slut™, the only version to have is the numbered 1st edition. Aside from being FIRST, they've got extra stamps, signatures, and graffiti inside!

— Ryan Richardson
October 2, 2004


---
FIRST ORIGINAL PRESSING: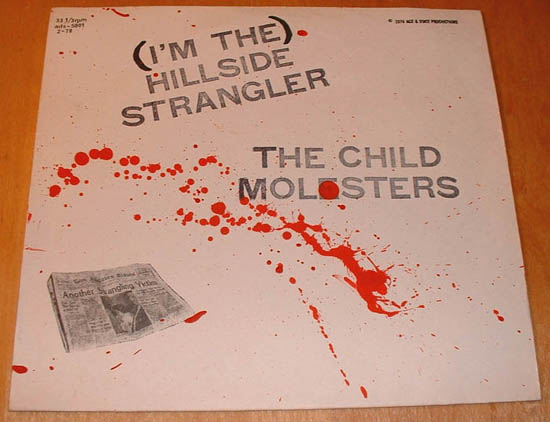 Front PS: February 1978 ("2/78") in the upper left corner indicates a first pressing.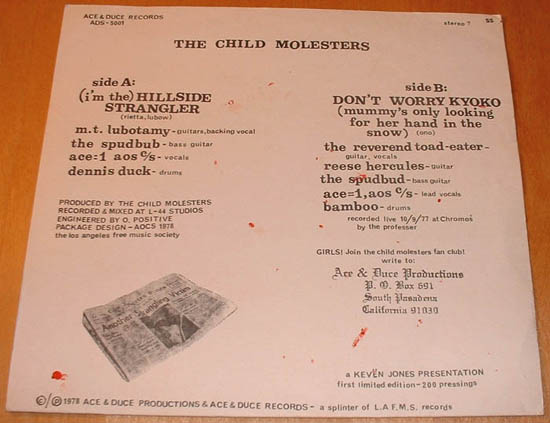 Back PS: "first limited edition - 200 pressings" appears in the lower right corner.
---
SECOND ORIGINAL PRESSING: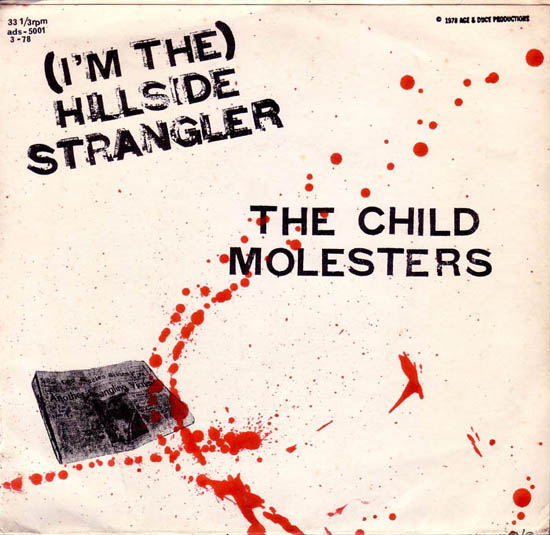 Front PS: March 1978 ("3/78") in the upper left corner indicates a second pressing.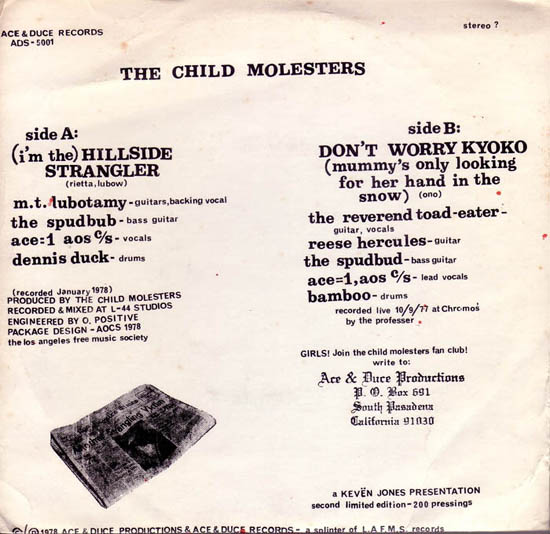 Back PS: "second limited edition - 200 pressings" appears in the lower right corner.
Note (recorded January 1978) added above production credit and darker newspaper graphic.

Thanks to Henry Weld for these scans.

---
THE FAKE:

This press was later re-marketed and stamped "20th Anniversary Edition"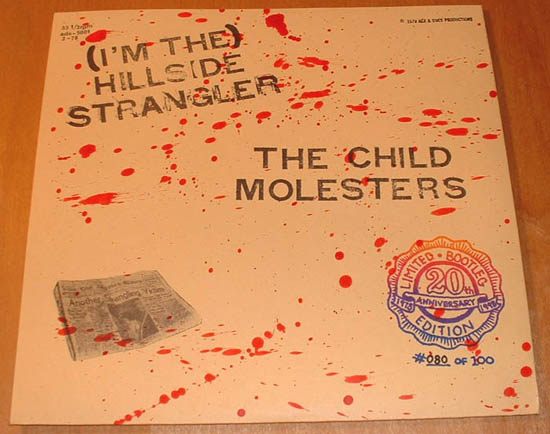 Front PS: Front PS: The stamp in the lower right corner only appeared after much hubbub.

Thanks to Matt Holland for lending me this one.