IT NEVER ENDS #6
NCM ~ Ultimate Orgasm 7in. (VVV 1980)
Additional information: Neal Caldwell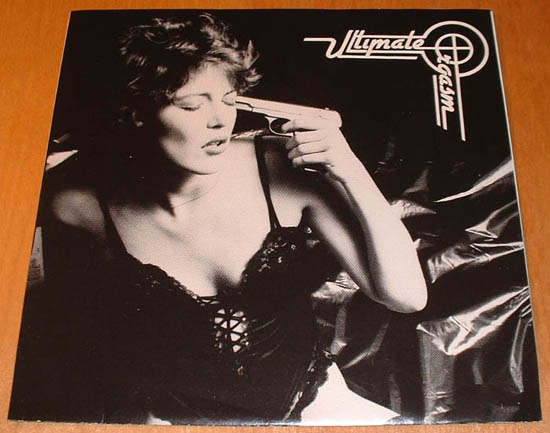 VVV's third release and by far one of its best. Sleeve art by Frank Campagna.

Some punk records deserve obscurity. And then there are records like NCM's "Ultimate Orgasm" 7in. This two-sider should not only NOT be obscure, it should've been a nationwide HIT. David Hill's absolutely unstoppable riffs and the Caldwell brothers' lyrics and studio mastery make for one of the finest punk paeans to self-destruction ever. The A-side hooks get into you and don't let go. It should've sold thousands. But it didn't. And then, twenty something years later, collector scum heap insult on injury by largely ignoring the record's desirability. While other VVV releases like Bobby Soxx and The Ejectors inspire drooling among collector cognoscenti, NCM is usually overlooked because it's far more common. The catch, however, is that the FIRST PRESSING of "Ultimate Orgasm" is as tough — if not tougher — to find than its more famous labelmates.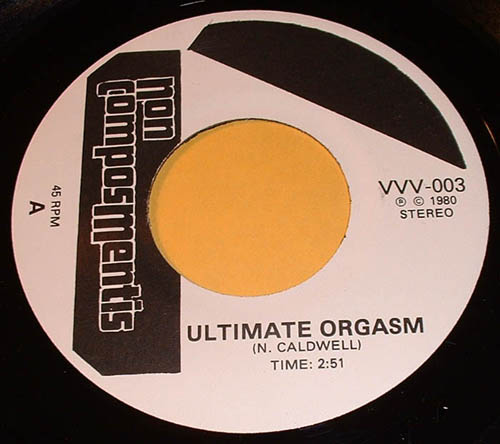 Black ink on white labels mean you've reeled in a rare one even if no one cares.

Unlike most VVV releases, there were actually two pressings of "Ultimate Orgasm" (an initial press of 500 followed by a repress of 1000 copies) and the second pressing stuck around a good long while. I traded or sold at least a hundred of the second pressings through the 1990's. The easiest means of differentiating the pressings are the labels. First presses have black & white labels, second pressings have silver & purple. The sleeves are nearly identical, differentiated only by "8(c)" in the back corner of the second pressing pic sleeve.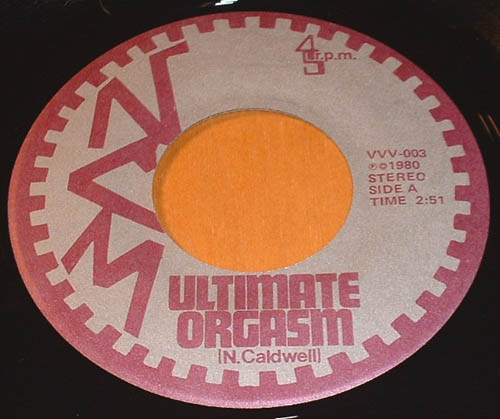 You're one in a thousand, baby. Purple ink on silver labels indicates a second pressing.

"Ultimate Orgasm" cover model Terry Jo Heard has a barely functioning Geocities website that includes a shot of Ayce LaRue posing for the NCM cover with a gun in her mouth. Minutia hounds note that Ayce dated Mike Vomit at one time and was the artiste behind the giant pill that graces the back cover of the Vomit Pigs' Take One EP ("Cap by Ace").

NCM never quite repeated the greatness of "Ultimate Orgasm" in their subsequent recordings though they came pretty close with a previously unreleased track "Six Feet Under" which I included on the Sacred Cattle compilation EP in 1993. NCM frontman Neal Caldwell ran Dallas' legendary VVV record store (R.I.P. 1996) in addition to putting out a couple dozens releases on the VVV label. These days Neal is one half of the Free Advice Guys at White Rock Lake in Dallas. This dogged duo haven't missed a Sunday in six years! Lest you think some Non Compos Mentis has come home to roost (as the folks at News Of The Weird did), the Free Advice gig is all in earnest and quintessentially Neal. He's one of the nicest guys you'll ever meet. Ask anyone.

— Ryan Richardson
October 23, 2004




"8c" only appears on the second press sleeve so look twice before upgrading. This one really is better loud.
---