IT NEVER ENDS #5
PROCESS OF ELIMINATION compilation EP (Touch & Go 1981)
Additional sources: Dave Stimson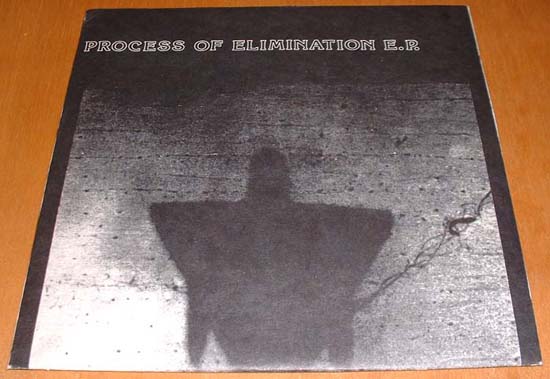 All right, you boll weevils... finally, another installment. I've only recently come to grips with the election results. With that in mind, it's time for a healthy dose of MIDWEST HARDCORE, and what title could be more appropriate than PROCESS OF ELIMINATION? Bested only by the Flex Your Head LP for multiple pressings of an early hardcore compilation, the Process discography information should've been apparent but has proven to be confused and muddled. I, for one, bought three copies before figuring out what was what. And while Flex Your Head served up some heapin' helpins of great tracks, the Process comp. seems like cold leftovers compared to 7in. releases by the Meatmen, Necros, Fix, and Negative Approach. Still, it's got some good cuts and is a gotta-have for hardcore fans. I called in Touch & Go magazine veteran and sorely missed Austin Record Convention fixture, Dave Stimson, to clarify and confirm the discographical nitty gritty.


FIRST PRESSING: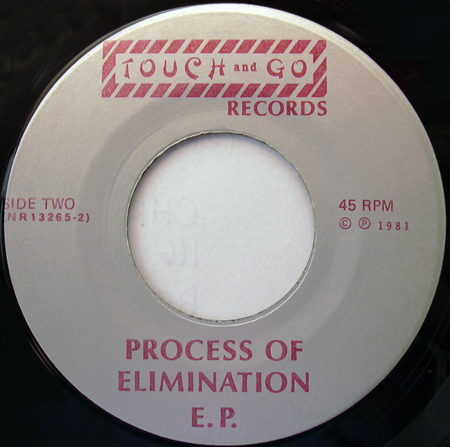 Label: Red ink on silver labels. Ideal for focus mismanagement on digital cameras!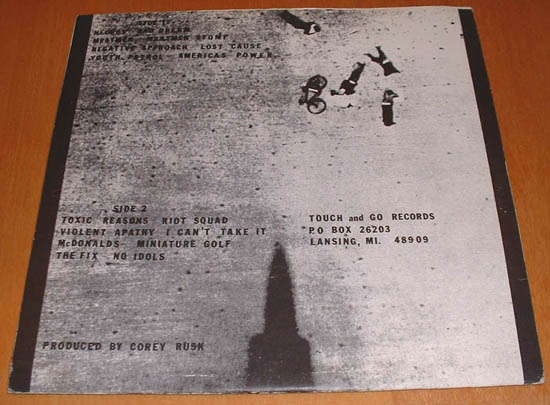 Sleeve: Lansing, Michigan address. The address changed to Maumee, Ohio on the THIRD pressing.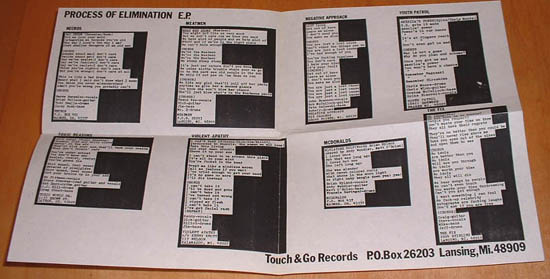 First press insert #1: Negative Approach's address is in Grosse Point, Michigan (hard to see in pic).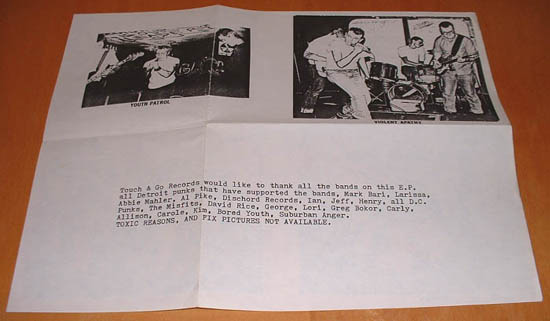 First press insert #2 (side one): "TOXIC REASONS, AND FIX PICTURES NOT AVAILABLE".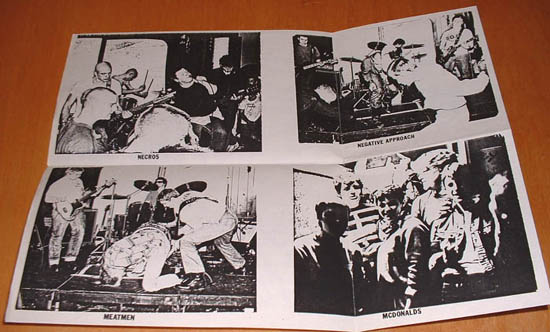 First press insert #2 (side two): The picture side of the 1st pressing insert has a white border on the right.



---
SECOND PRESSING: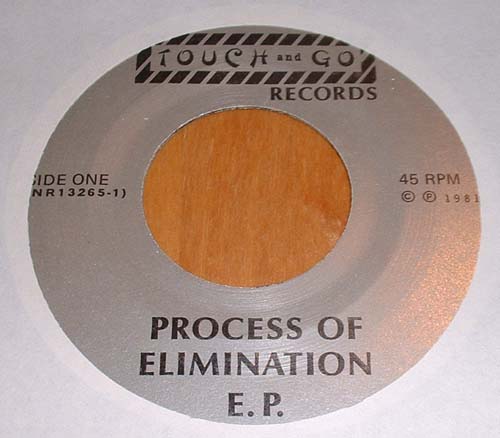 Label: Black ink on silver labels. Back PS has the same Lansing address as above.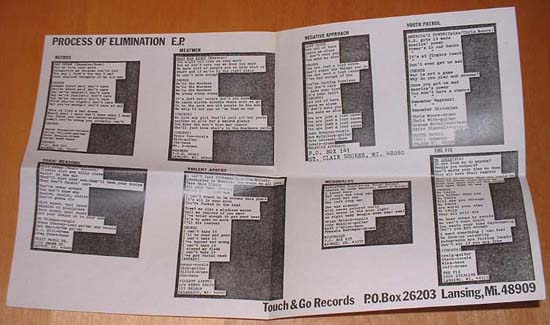 Second press insert #1: Negative Approach address in St. Claire Shores, Michigan in larger type.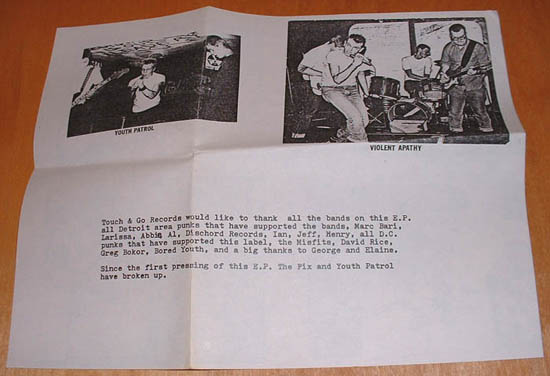 Second press insert #2 (side one): "Since the first pressing of this E.P. The Fix and Youth Patrol have broken up."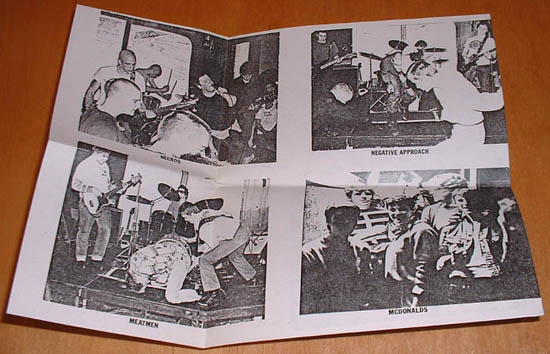 Second press insert #2 (side two): The right side of the Negative Approach and McDonalds pics have been cropped.


---
THIRD PRESSING:

Yellow labels, small hole. Maumee, OH address on back PS. Another insert added...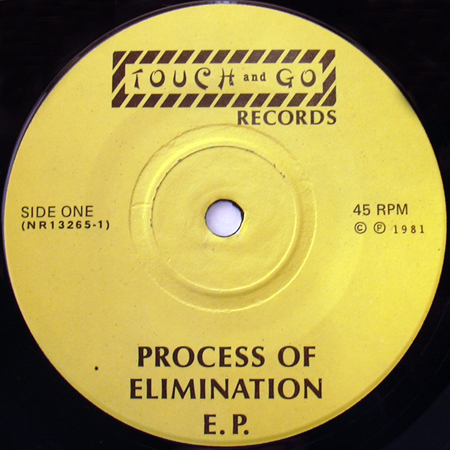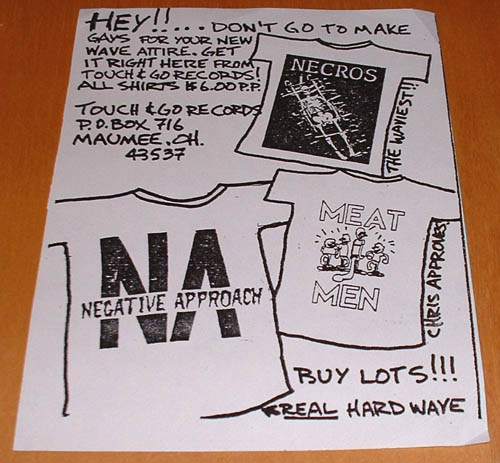 I've run into a couple of yellow labeled copies in Lansing, MI sleeves. Mix-match of leftovers? Careless upgrade?

While attempting to locate a third press label scan, I stumbled across a dementlieu page that has much of the above info I'd spent the time to dissect along with further Process of Elimination minutia, too. What a grand way to get back in the groove of INE columns! Ah well, it seems unwanted repeats are the order of the day...

— Ryan Richardson
November 20, 2004

Chris Minicucci, an astute peruser of all Time-Life publications in his high school years, spotted this familiar looking photo of a jet flying over the Egyptian desert in 1967. I always wondered what the image was...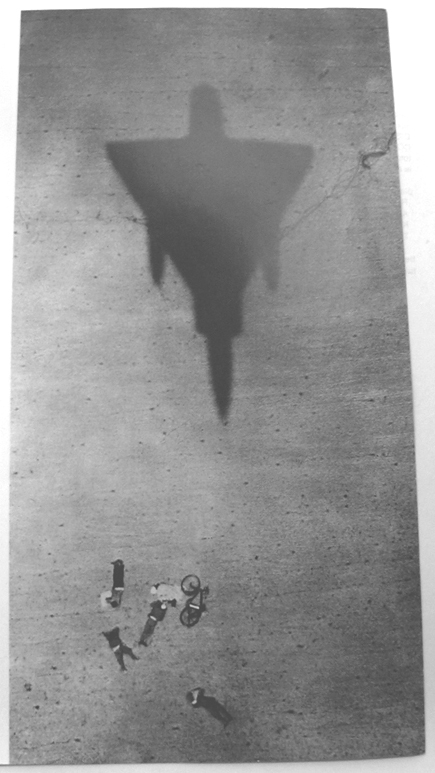 Thanks to Chris again for supplying a clearer shot of the 1st press and 3rd press labels!