IT NEVER ENDS #9
SOCIAL DISTORTION ~ 1945 EP (13th Floor Records)

At 13th Floor Records, two things never seemed to stop: elevators and pressing variations on Social Distortion's 1945 EP. No fewer than FIVE variations drove me to cry out "it NEVER ends" and thus a new section on Break My Face was born. It's taken a mere year to return to the original inspiration. Conventional collector wisdom (based on early collections) dictates that the 1st pressing had two-color yellow & red labels was issued mostly sleeveless.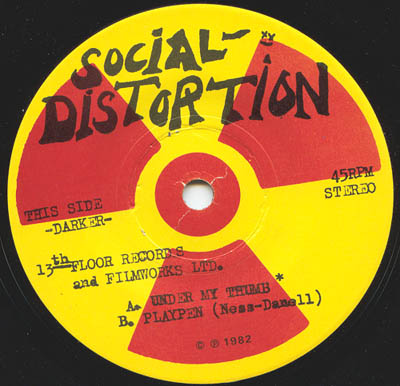 Where would punk artwork be without the radiation symbol?

In 1982, mail order maestro and world class collector nut Duane Rossignol ordered himself a 1945 EP. It arrived sleeveless with a note from the band: sleeves aren't ready, send a buck, and we'll send you one when one when they're done. Duane dutifully delivered a dollar and waited... and waited.

A few months later, Duane recruited a friend in L.A. to pick up a sleeved copy locally — admirable persistence, a collector's collector that Duane! The sleeve was a low-budget, double-sided "Dangerhouse style" 1½ foldover turned sideways.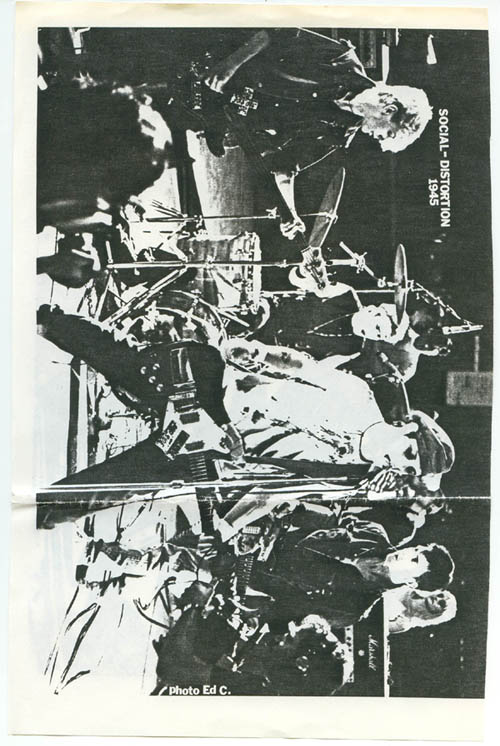 Ludes and scissors don't mix. No straight edge here!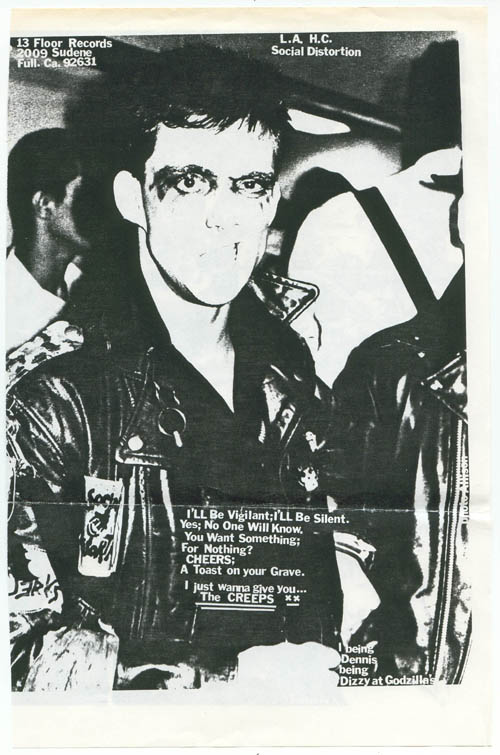 On these shoddy photocopy sleeves, provenance is everything. Unless you know the sleeve has a short and simple history (i.e. one owner, one collection), be very wary. Having bought Duane's copy, I settled back into the complacent satisfaction of scratching off a want list item.

Years later, a bomb in the form of a different picture sleeve descended. The owner (a one-man army of record collecting known for having never-seen-before-or-since records) spared me by unloosing this variation without much ado. Nagasaki nightmare averted. This sleeve was also a 1½ foldover on a goldenrod heavy stock and — in case the label wasn't enough — included another big trefoil.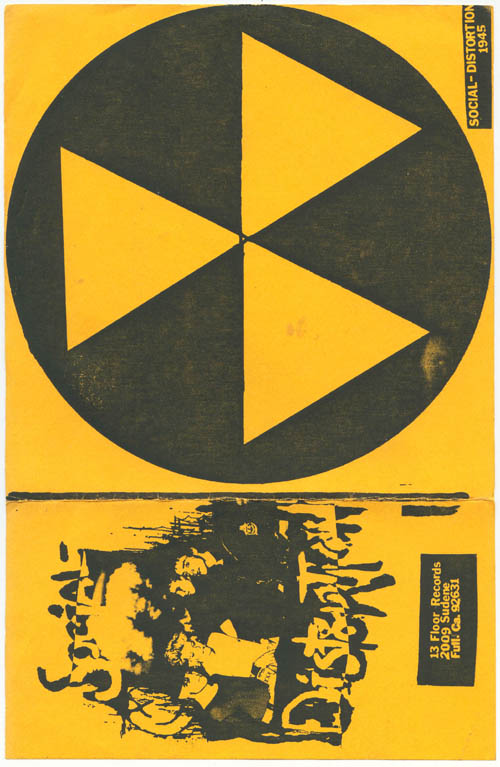 Earlier this year, a copy with a signed and numbered dust sleeve turned up at a Long Island store run by the former nice guy behind Skydisc Distribution. This copy was sent to him in 1982 where it sat in storage for 23 years.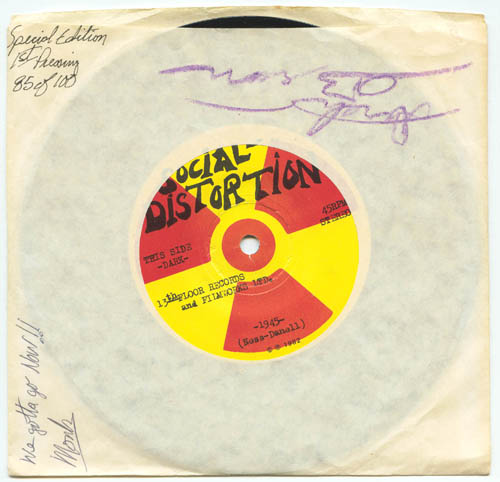 Where are the other 99? Social Distortion signature sleuths speak up.
---
And to think we're not even to the second pressing. The second pressing included a full-color pocket picture sleeve and a one-color (black ink on yellow paper). The pressing plates were reused, though an extra "SD" was added to the matrix etching.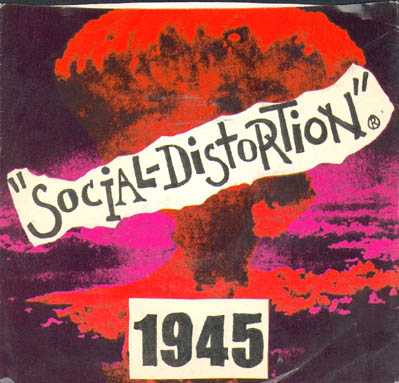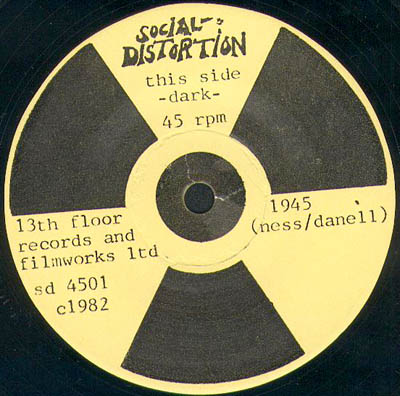 AND... there's a 12in. version as well. Exhausted yet? Not so fast... our man Jason Litchfield in Rhode Island bought himself what appeared to be yet ANOTHER variation of the symbol sleeve with a lighter paper and a different band photo.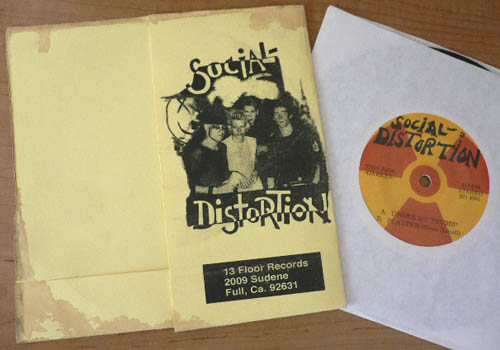 Apparently this sleeve was some filthy punk's favorite bath toy, too.


The record labels appeared similar to the 1st pressing but were more orangey and included less text (which, to us, suggested an earlier pressing). That theory quickly dissipated with a look at the matrix. The extra "SD" was in the run-off grooves... there's no way it could've preceded the yellow & red label pressing. Also, the sleeve and label artwork were heavily pixelated... not really the kind of thing one would expect to find on a 1982 pic sleeve. By my reckoning, there was something rotten in Providence. How rotten wasn't discovered until our man Chris Goodsell suspected a bad buy and decided to pick at the edge of the label revealing...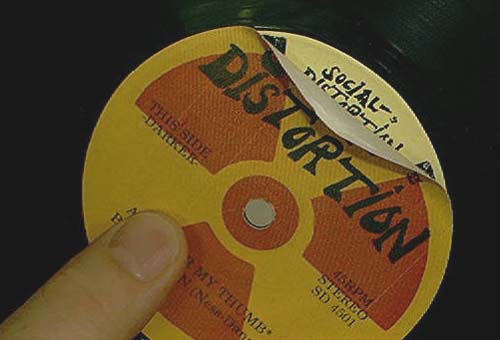 Someone went through a LOT of trouble to make this. But why? To turn a sleeveless second press into some hot new rarity? Seems like time ill-spent. And where'd the different sleeve and label art originate?

— Ryan Richardson
September 4, 2005


---
UPDATE July 2006:


A legit, untrimmed, blue paper version of the band pic sleeve has made its way into my never-ending clutches. The photocopy process is unusual on this one... what I'll describe as "linear" for lack of a better term. I've only ever seen it on GG Allin's "Hard Candy Cock" EP (1983). The process results in higher picture clarity which is certainly welcome on the darker blue background. Here's hoping this is the last version of this record I'll be forced to buy...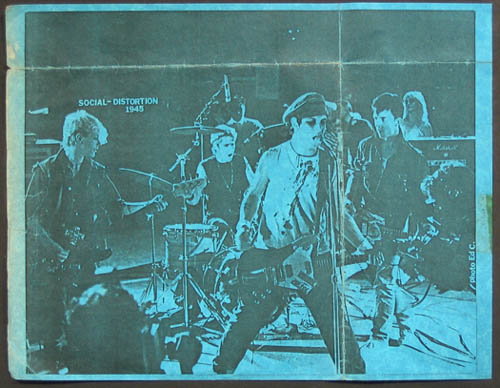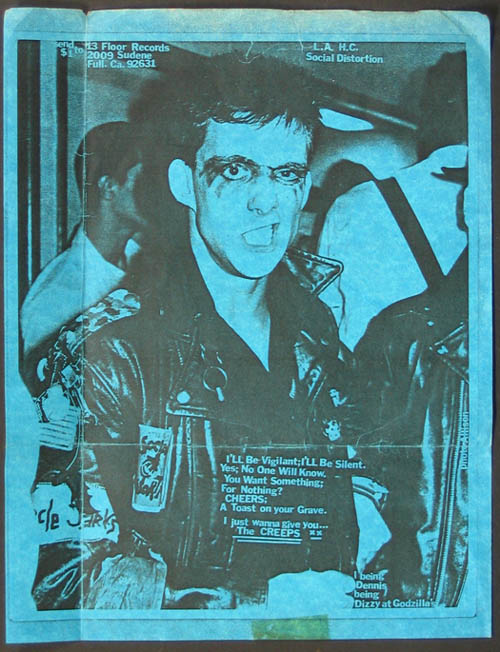 ---