IT NEVER ENDS #15
PLUGZ ~ Move EP (Slash 1978)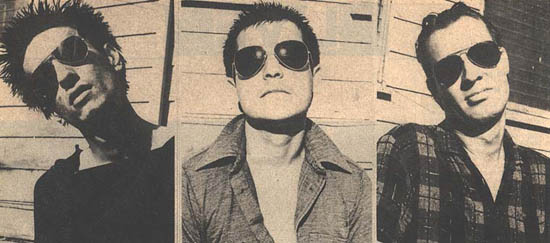 PLUGZ (1978 line-up): Joe Nanini, Tito Larriva, and Barry McBride


Upon arrival in L.A., the Plugz wasted no time blazing a trail in the punk scene. After all, how hard could it have been after traversing 800 miles worth of scorching highway from El Paso? Early line-ups included Blank Frank (future member of Rock Bottom & The Spys) on guitar and Joe Nanini (Eyes, Wall of Voodoo) on drums. By 1979, the classic 1-2-3 punch of Tito Larriva, Charlie Quintana, and Barry McBride solidified and cranked out the classic Electrify Me LP. In an early interview with Slash magazine, Tito explained the name...

Frank, our old guitar player, mentioned something about plugs of the radio.
I thought it would be a good name but he hated it. Then he found out it also
meant "tampon" in slang. Then we had another argument about the "z"...
Los Plugz recorded their debut three-song EP in four hours flat. Exene Cervenka's unmistakable background yowl can be heard throughout. The fledgling Slash record label chose the Plugz as their second release, following close on the heels of the Germs Lexicon Devil EP.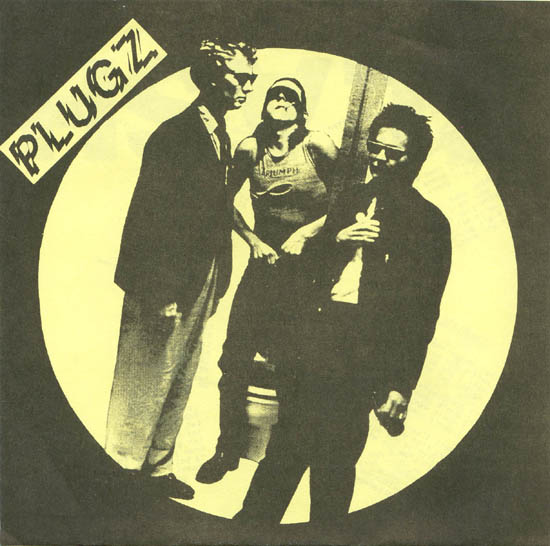 Like the first Black Flag EP and many a Dangerhouse release, some Plugz EP's came in a plastic baggie sealed with a sticker bearing the band's name in an electrically stylized font. Additionally, some copies included a 3" square dayglo orange sticker with the cover art. These small collector perks pale in comparison to the drool-inducing "tie" sleeve. As best as Barry can remember (that's his torso featured in the artwork), these crude photocopy sleeves were whipped up before the regular sleeves were finished. A copy of the 1st Plugz EP with this sleeve surfaces very, very infrequently. If one pops up, expect a From Dusk Till Dawn style bloodbath...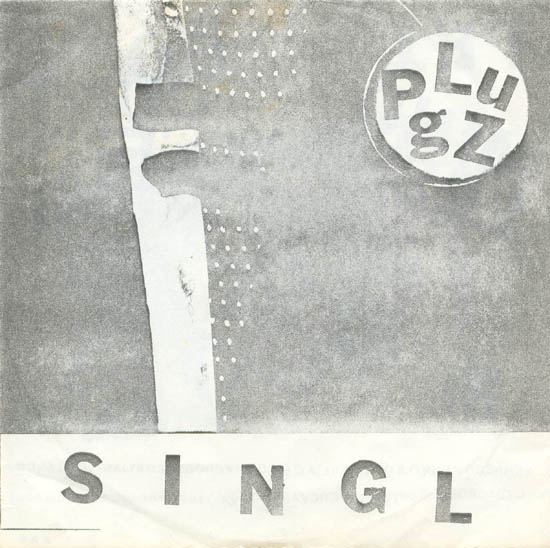 The maddening Plugz variations don't end with their first EP. The Plugz self-released LP debut, Electrify Me, has several variations. Collector dorks take note: the first press has a gray box behind the band on the cover and black labels on the vinyl. In 1981, the Plugz recorded the great Achin' 45 for the Fatima label (also responsible for the second Plugz LP, Better Luck). The first issue Achin' sleeve is white, the second is yellow and both include Gary Panter artwork. And then there's the super-rare version of the Achin' 45 which — instead of the standard "La Bamba" B-side — includes the exclusive cut "Strange Love" on the flip. This version was issued with a blank B-side label and sans pic sleeve.

Speaking of "Strange Love", the Plugz wound up providing a partial soundtrack for a full-blown porn firestorm. "Music By The Plugz" can be seen in bright green lettering on the movie poster for 1984's New Wave Hookers which featured a not-ready-for-prime-time player named Traci Lords.

— Ryan Richardson
March 15, 2006
---